Keep Your Loved Ones Safe from Rip Currents
Despite our quiet surf and moderate tides, rip current risks can be a dangerous aspect of vacationing along the coast. Even the strongest of swimmers can be pulled out to deeper waters in a matter of minutes.
When planning a trip to our beaches, it is important to familiarize yourself with rip current information to better prepare you and your family in the event you experience this risk during your stay.
Oak Island Rip Current Status
To check the current status of rip currents in Oak Island, simply scan this QR code or visit the Oak Island Water Rescue webpage at: https://oiwr.org/.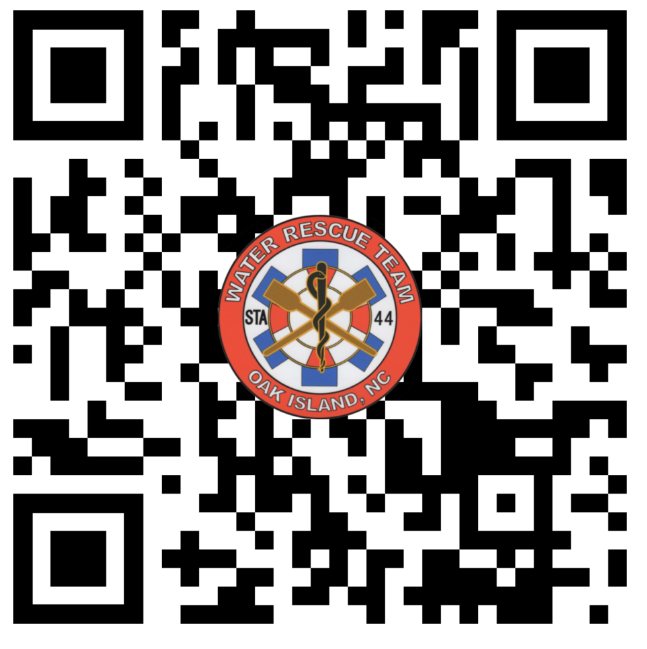 What is a Rip Current?
Rip currents are defined as strong currents that flow from the beach outward through the surf zone. Rip currents occur along beaches, lakes and other bodies of water with breaking waves.
Rip current speeds vary from 1 to 2 feet per second with sizes spanning from very narrow to 50 yards wide. Contrary to popular belief, rip currents do not pull people under the water but away from the shore.
Identifying a Rip Current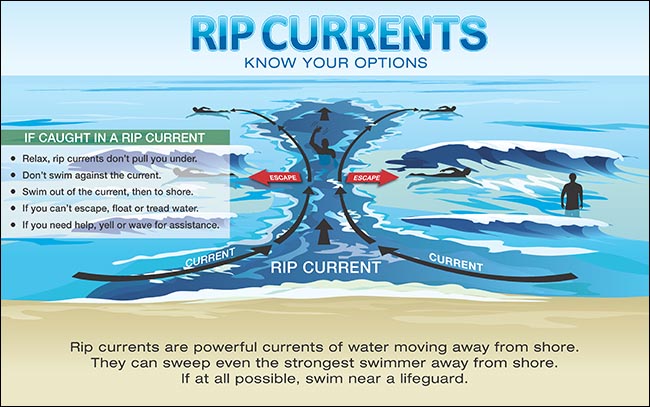 Great weather does not always mean that swimming conditions are safe. Rip currents may be strong even on the calmest, sunniest days and water conditions can change quickly. The greatest precaution one can take is learning to identify rip currents when on the beach.
The following clues may suggest that a rip current is present:
A channel of choppy, churning water
Areas with differences in water color
A line of foam, seaweed or debris moving outward to deeper water
A break in the incoming wave pattern
Rip Current Safety
In addition to identifying rip currents, there are a few other precautions and tips vacationers may keep in mind/use to protect themselves from the dangers of rip currents.
Encourage all members of your family to learn how to swim
Never swim alone, always take a swim buddy with you
Be caution at all times, and "if in doubt, don't go out"
What to do if you get Caught in a Rip Current
If you find yourself caught in a rip current, stay calm and do not fight the current. Swim in a direction following the shoreline. When free of the current, swim at an angle away from the current toward the shore. If you are unable to escape by swimming, it is suggested to float or tread water until the current weakens and then try swimming at an angle away from the current toward the shore. If you feel you are unable to reach the shore, face the shore and try to call attention to yourself by waving your arms and calling for assistance.
What to do if you See Someone Caught in a Rip Current
If you witness another swimmer caught in a rip current, do not become a victim by trying to assist someone else. Call 9-1-1 for assistance immediately. Please keep in mind that neither Oak Island nor Caswell Beach is a lifeguard protected beach; therefore, swimming is at your own risk.
Additional Oak Island, NC Rip Current Information
As always, check local beach forecasts before you plan to head to the beach. Pay special attention to any posted warning signs or notices as you travel up and down Oak Island and Caswell Beach.
Town of Oak Island Beach Info  Town of Caswell Beach Info
For additional information on rip currents and safety measures, please visit the National Weather Service or National Oceanic and Atmospheric Administration (NOAA)'s Oceans Today website by link below.