19 Oct 2023
Planning a vacation to Oak Island? Known for its beautiful beaches, family-friendly atmosphere, and a variety of outdoor activities, from boating and fishing to jet skiing and paddle boarding, it's no wonder this destination keeps people coming back year after year.

When it comes to choosing where to stay, nothing beats the convenience and calm of an oceanfront property. We've compiled a list of 11 exceptional oceanfront vacation rentals in Caswell Beach, each offering unbeatable views and direct access to the Atlantic Ocean. With sights like sweeping dunes, crashing waves, and the youngest lighthouse in North Carolina, it's a picturesque spot guaranteed to provide you with the quintessential beach vacation vibes. Keep reading to discover your perfect home away from home.  

Sea Spree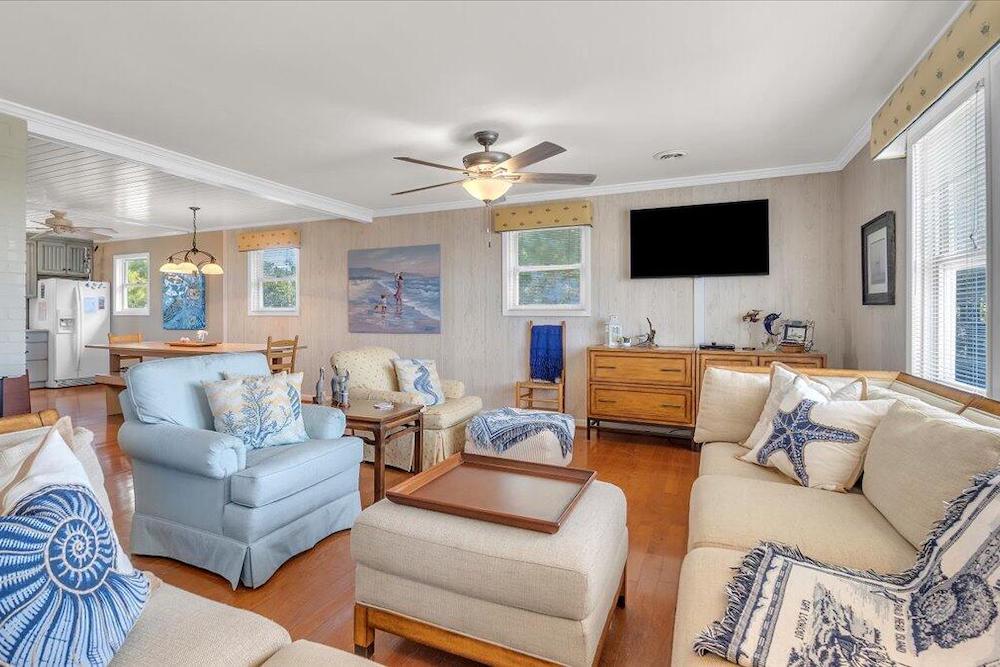 6 BR | 3 BA | Sleeps 10
Ideal for multi-family getaways or those that include older children, multiple living areas and large, comfortable beds await you and your family in this spacious multi-level home. Step outside and be on the shore in minutes. Whether you spend your time sunbathing on the ocean-side porch, sipping a frozen drink under the shade of the dune-level gazebo, or enjoying hours of family fun on the beach - Sea Spree is the perfect vacation rental for your stay.
Featured Amenities:
Captain's Choice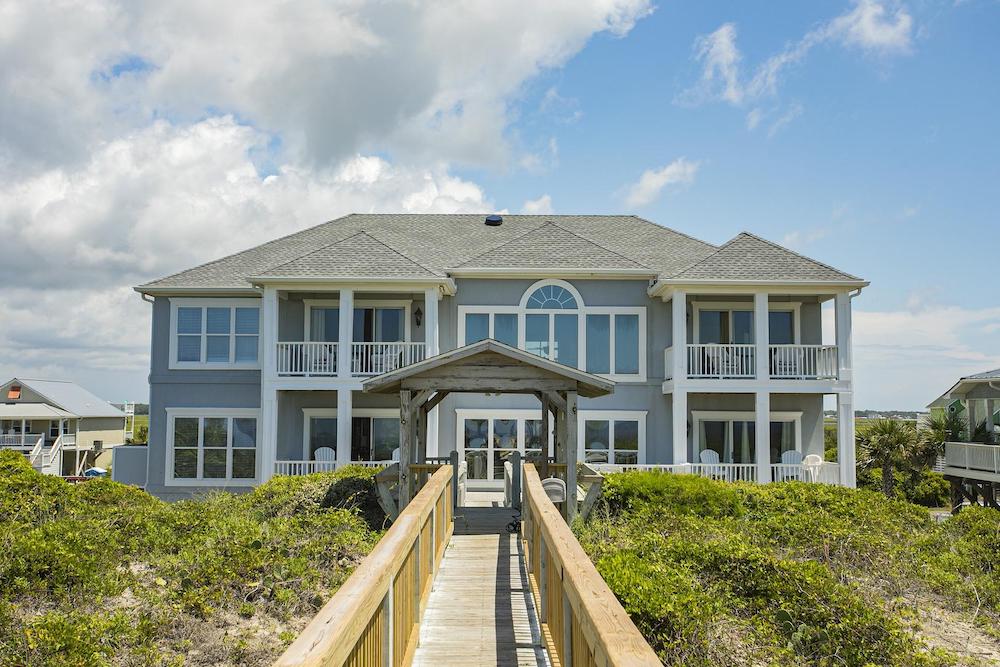 8 BR | 7.5 BA | Sleeps 20
Perfect for large family gatherings, Captain's Choice is a stately oceanfront home that provides 8 bedrooms, 2 living areas, and massive, vaulted ceilings for guests looking to relax along the pristine shores of Caswell Beach. Tasteful decor and plentiful amenities (including a wine cooler) welcome your family with all-level elevator access, ensuring that anyone in your party can enjoy everything this home has to offer. A new fridge, dishwasher, and dining room set have also been added to the home. Not specific to just the inside, the home provides tons of outdoor space for fun and relaxation, including a dune-level gazebo and sun deck!
Featured Amenities:
Open deck
Outdoor shower
Deck at dunes
The 19th Hole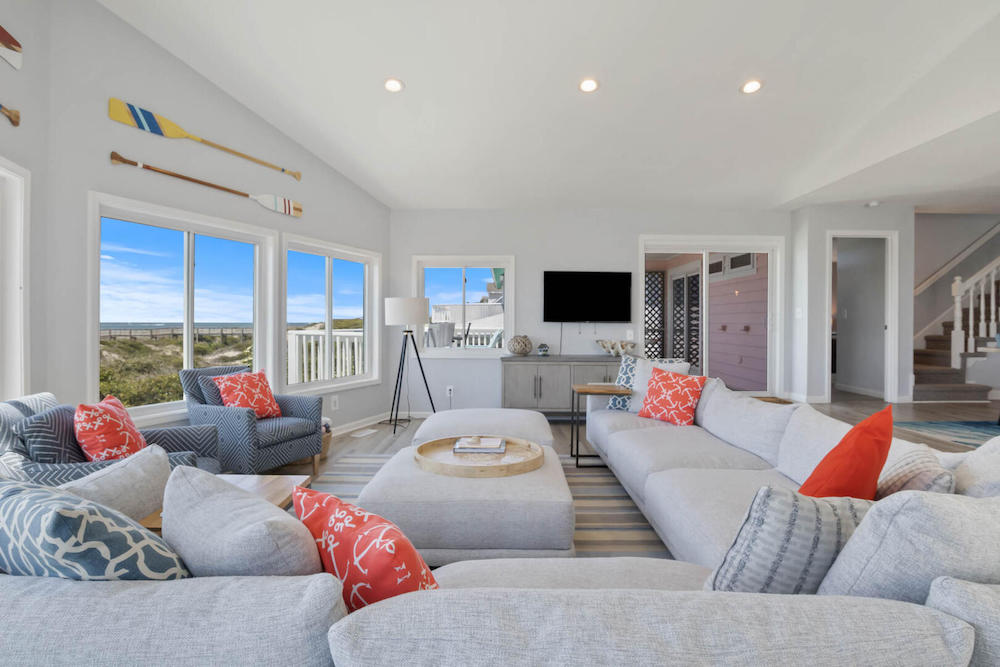 5 BR | 3.5 BA | Sleeps 14
Families looking for a peaceful Caswell Beach vacation and the best of both ocean and Intracoastal Waterway views need to look no further than The 19th Hole. This recently renovated oceanfront home offers a spacious floorplan of five bedrooms with additional sleeping quarters in the loft area and comes complete with premium LVP laminate wood floors, interior painting, all-new ocean-side windows, and updated furniture.
Featured Amenities:
Open deck
Outdoor shower
Covered porch
Sea Winds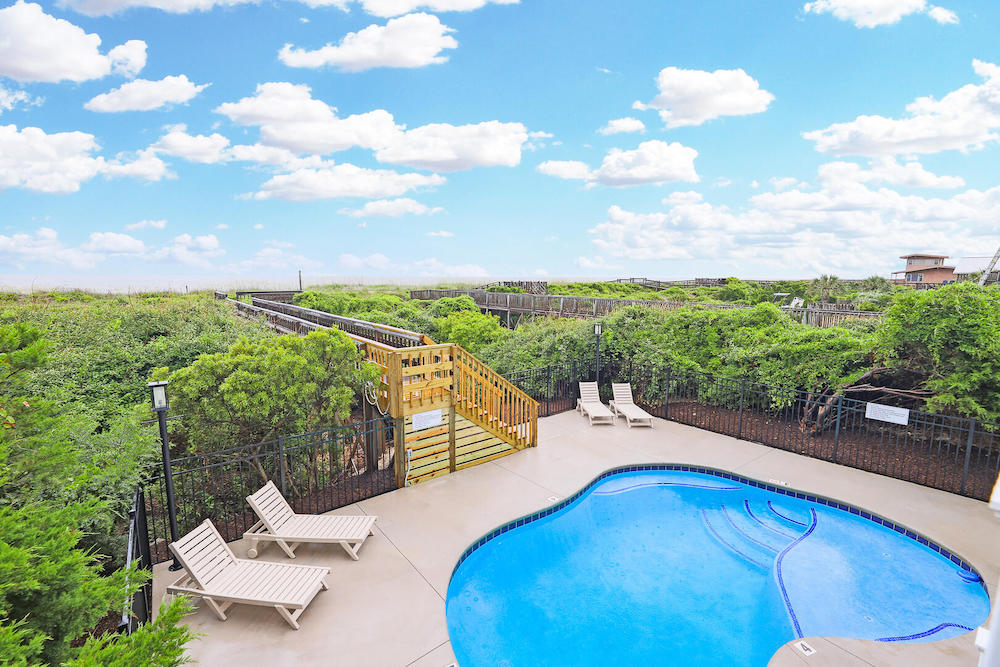 5 BR | 3 BA | Sleeps 13
Spend your Oak Island vacation in this oceanfront 5-bedroom home from Margaret Rudd. Brand new flooring, a remodeled kitchen, and updated bathrooms are just the tip of the surface when it comes to the renovations awaiting 2023 guests of Sea Winds.
Featured Amenities:
Private pool
Deck at dune
Four Square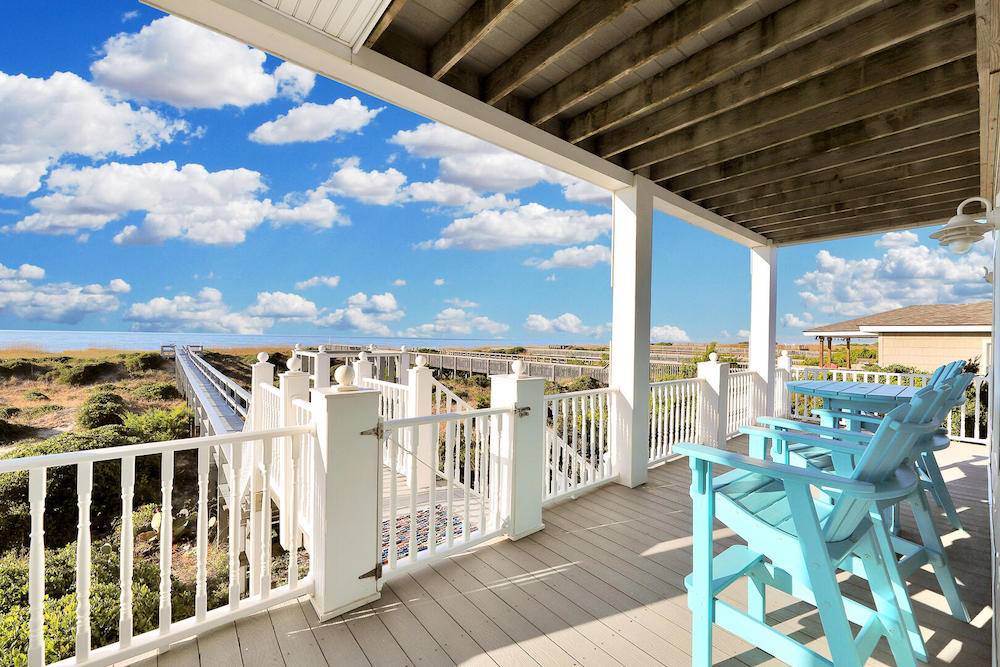 6 BR | 5 BA | Sleeps 12
Four Square is a beautifully appointed six-bedroom oceanfront home that rests along the tranquil shores of Caswell Beach. This lovely home boasts views of both the Atlantic as well as the sound from its multi-level porches and decks. Visitors love taking in the views from the two decks along the home's extended walkway. With outdoor spaces perfect for dolphin-watching, guests can take in the sights and sounds of the ocean while enjoying some peace and quiet during their vacation. 
Featured Amenities:
Deck at dunes
Outdoor shower
Gas grill
Ft Casual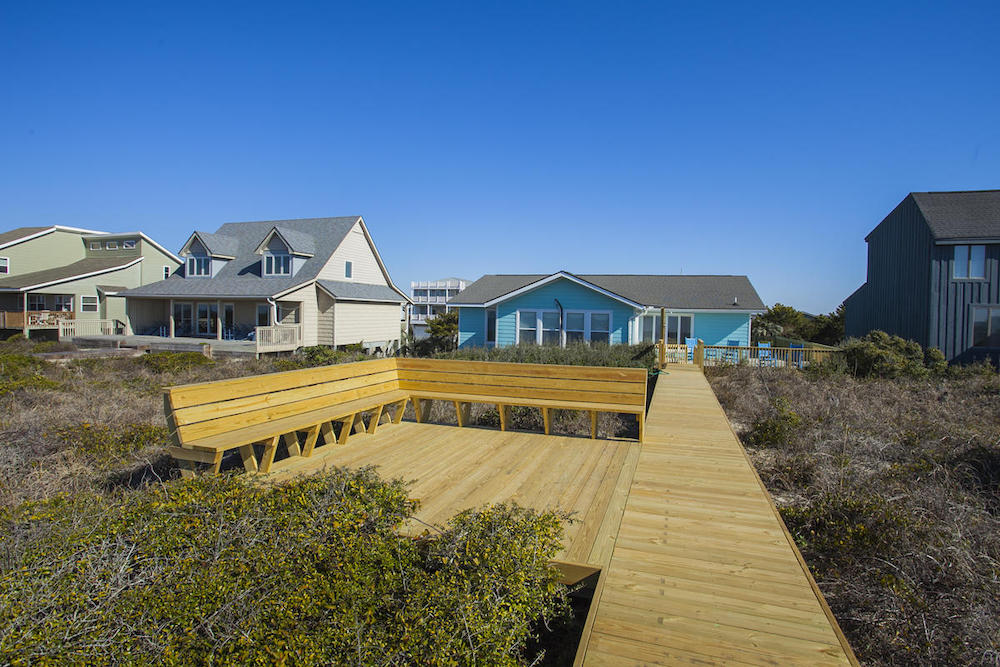 4 BR | 2 BA | Sleeps 8
Enjoy the beauty and history of Caswell Beach in this beautiful, spacious oceanfront home. Ft Casual has many great features, including a large, oceanside sun room surrounded by windows that frame the dunes and water. Outside is an ocean deck with furniture, a private walkway to the beach, and a sun deck at dune level that offers a perfect seat for viewing the sunset.
Featured Amenities:
Dog friendly
Outdoor shower
Seaford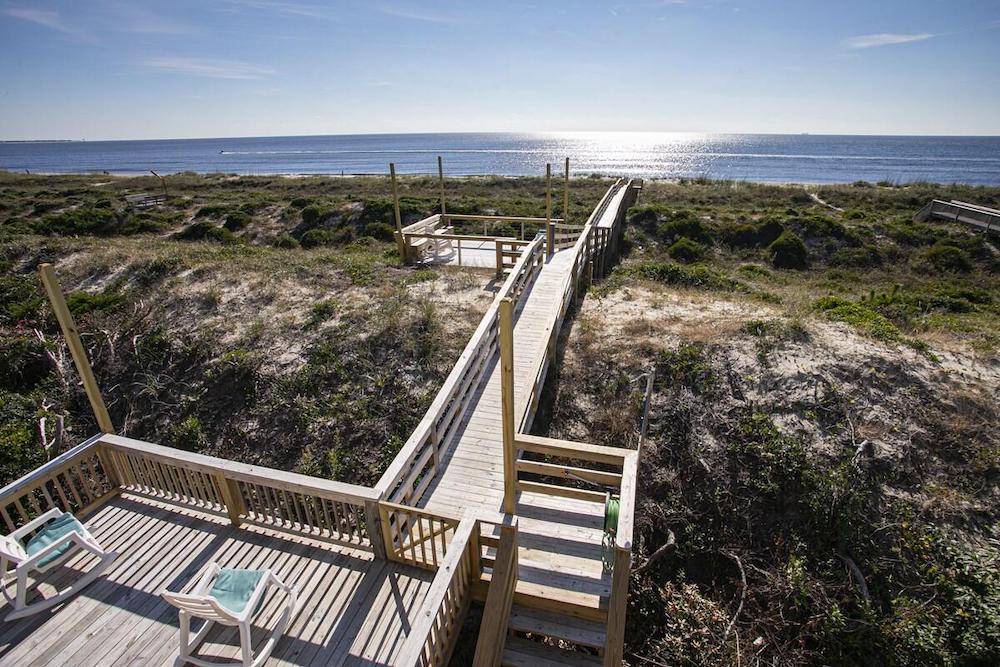 4 BR | 3 BA | Sleeps 14
Seaford is a beautifully renovated four-bedroom oceanfront home with large bedrooms and an open, spacious main living area overlooking the beach. The decor is fresh and modern and pulls the outside into the home with cool tropical blues and whites. Outside is a large, recently reconstructed deck leading to a dune-level seating area with gorgeous panoramic views of the Atlantic. The oceanfront upper balcony boasts the best views of all, a true bird's eye view that makes spotting dolphins a breeze. The home has an elevator available for handicapped use upon request. And for those looking to hit the links while visiting, the Oak Island Golf Club is just down the street.
Featured Amenities:
Deck at dunes
Outdoor shower + foot wash
Elevator 
Sea Turtle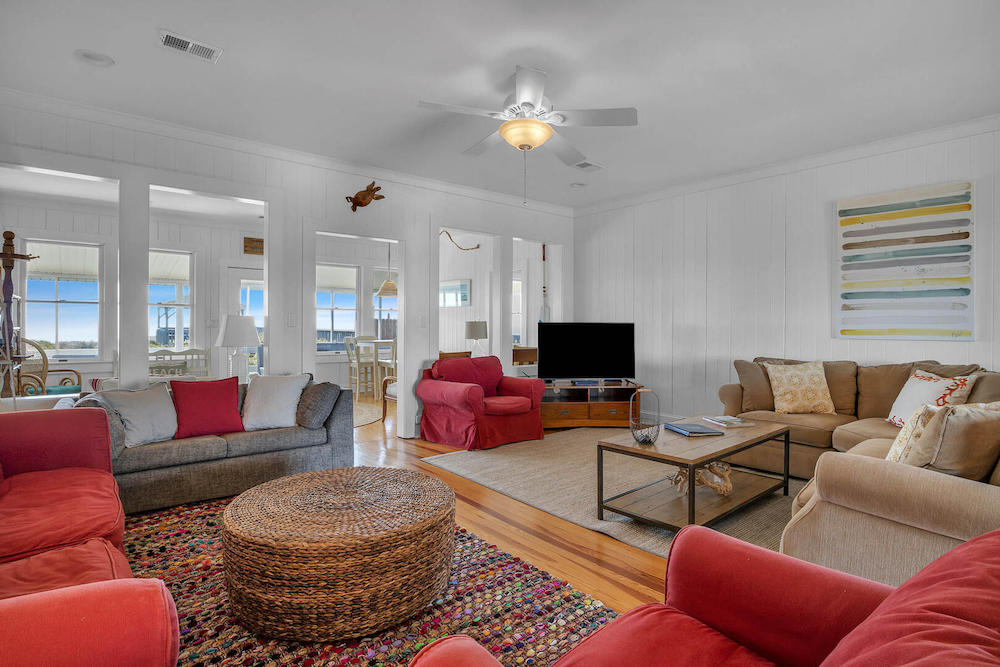 7 BR | 5.5 BA | Sleeps 16
Sea Turtle is an amenity-rich seven-bedroom home with unobstructed views of the Atlantic as well as an amazing panoramic of the waterway into Southport. Situated just far enough from the hustle and bustle to provide a secluded getaway while still being close enough to all of the shopping and restaurants that East Beach offers, you'll get the best of Caswell Beach when you book this vacation rental. Updates for 2023 include adding a twin bed and changing two bedrooms and workstations.
Featured Amenities:
Screened-in porch
Outdoor shower
Charcoal grill
Deck at dunes
Pelican Knob
2 BR | 1 BA | Sleeps 6
Pelican Knob is a quaint two-bedroom oceanfront cottage with lovely views of the ocean and the Intracoastal Waterway. The dune-level deck with bench seating is the perfect place for taking in the sights and sounds of Caswell Beach. The home has beautiful wood details throughout, charming nautical decor, including pieces by local artists, and plenty of comfort and convenience for your next family vacation.
Featured Amenities:
The Helm
4 BR | 3 BA | Sleeps 11
The Helm is a four-bedroom oceanfront home in Caswell Beach and offers tons of outdoor spaces along with a comfortable living space inside. If you are looking for views, this is the Margaret Rudd home for you - it has decks and porches on both sides, offering ocean and waterway views and even an up-close view of the Oak Island Lighthouse. It also has a dune-level deck that makes it a unique and beautiful place to enjoy the views while soaking up the sun. Inside, the home is nicely decorated and outfitted with plenty of amenities, newly replaced flooring downstairs, and a remodeled kitchen to make your stay comfortable and enjoyable.
Featured Amenities:
Deck at dunes
Outdoor shower
Porch swing
Pipe Dream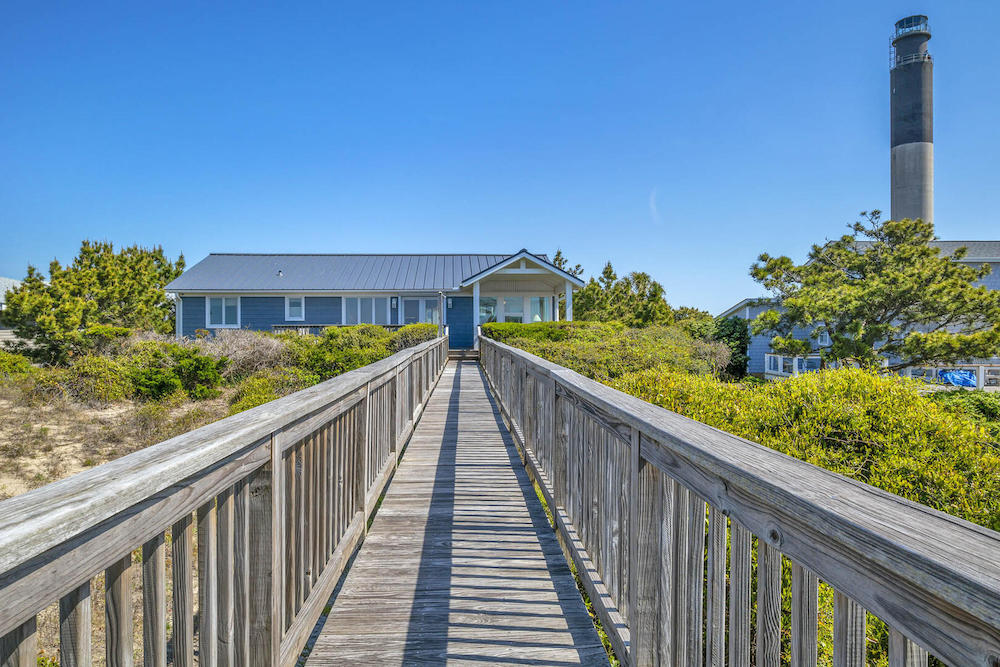 4 BR | 3 BA | Sleeps 10
You simply cannot go wrong vacationing in Caswell Beach, and Pipe Dream is perfect for your family trip. It offers spacious living areas with tons of seating and dining options. Windows all the way around the main level let the light shine through and provide beautiful views of the beach. The home has a large, partially-covered oceanfront deck with furniture and a private covered dune-level gazebo at the end of the private walkway to the beach. The covered street-side porch is a great feature with its views of the Oak Island lighthouse and the sound.
Featured Amenities:
Gazebo
Deck at dunes
Charcoal grill
Lighthouse view
Book Your Oceanfront Caswell Beach Vacation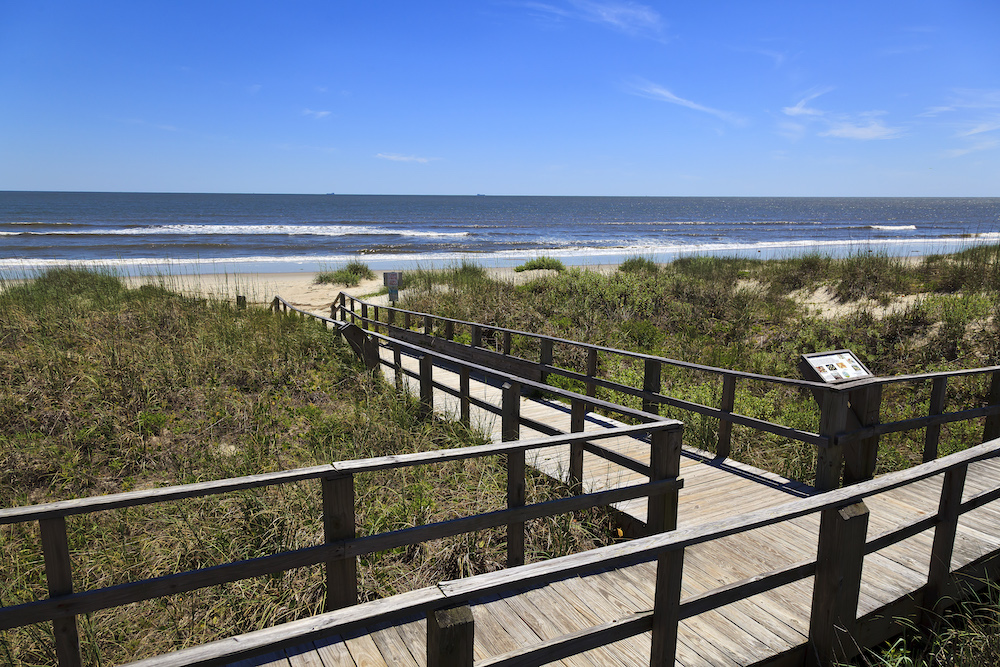 As you plan your trip to Caswell Beach, don't forget to explore local attractions like the iconic Oak Island Lighthouse, which offers panoramic views you won't want to miss. Whether it's your first visit or you're a returning guest, the area has something for everyone. When it comes to finding the perfect oceanfront property, Margaret Rudd vacation rentals offer a range of options that will make your stay unforgettable. Don't wait—book your oceanfront Caswell Beach property directly with Margaret Rudd today and start looking forward to the vacation of a lifetime.

Browse All Oceanfront Vacation Rentals