9 Jun 2021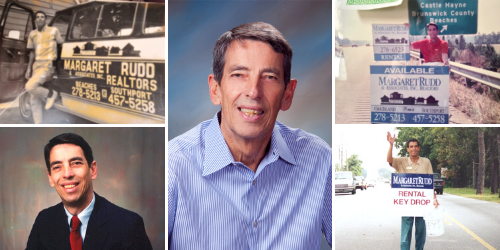 MRA Mourns the Loss of S.R. Buddy Rudd, Jr.
July 1, 1944 - June 6, 2021
It is with deepest regrets and our greatest sorrow that we share the passing of S.R. Buddy Rudd, Jr., Vice President with Margaret Rudd & Associates, Inc., REALTORS.
The news of Buddy's passing reached all of us with heavy hearts. He was not only a beloved and long-time member of the Southport-Oak Island community, leader in the North Carolina real estate industry, and champion for Rudd's property management department, Buddy was a devoted husband and partner, loving and attentive father, and loyal friend to many.
After obtaining his NC Real Estate license in 1983, Buddy was hired by Margaret Rudd & Associates, Inc., REALTORS in 1986, and was charged with leading the company's property management division. He was later appointed Vice President of the company in 1999.
Commitment & Devotion
He wove his commitment to exceptional customer service, professionalism and community into everything he did. Over his 38-year career, he served on a number of Association and Chamber of Commerce boards and committees as well as in numerous positions with local and state governments. He was frequently recognized with various awards and accolades for his unwavering commitment and devotion. While the list is extensive, a few notable appointments include:
Appointment to the North Carolina Real Estate Commission (2007 - 2014)
North Carolina Association of REALTORS: Board of Directors (1998 - 2000, 2003, 2006 - 2007); Property Management Division Chair (2000) and Vice Chair (1999); Hall of Fame Award Recipient (2005); Kemp C. Clendenin Award "NC REALTOR of the Year" Recipient (2007)
Brunswick County Association of REALTORS: REALTOR of the Year Award Recipient (1998); President (1999); Legislative/RPAC Committee Member (2012 - 2021)
NC Vacation Rental Managers Association (NCVRMA): Board of Directors (1997 - 2000)
Southport-Oak Island Area Chamber of Commerce: US Open King Mackerel Tournament Founding Member & Chairman (1981 - 1982) and Board of Directors (1981 - 2021); Vice President, Tourism Committee (1996 - 1999)
Brunswick County Tourism Development Authority (TDA): Board of  Directors (1999); Vice Chairman (2000 - 2007)
Never Met a Stranger
On a personal level, Buddy enjoyed boating, golfing, a nice cold Miller Lite and hot dogs, and, you could likely catch him enjoying a drive down the beach. He was always quick to offer a smile and a positive message. He never met a stranger as everyone became a friend and truly loved him. Above all, he loved his work and his family. No other man has ever been harder working, more dedicated, humble and kind. While he will be missed tremendously, his legacy will live on.
In lieu of flowers, the family requests that donations be made to Brunswick Family Assistance, Special Olympics and the NC REALTORS Housing Foundation. A Celebration of Life will be held at the 801 Ocean event center located at 801 Ocean Drive, Oak Island NC 28465 on Thursday, June 24th from 5pm to 8pm.
Condolences for the Rudd family may be shared by emailing jfuller@rudd.com.