22 Apr 2021
Vacation Vittles Nets MRA Prestigious Acknowledgement
On Friday, April 16, 2021, NC State University's Office of Outreach and Engagement hosted its annual awards ceremony in virtual format. Leslie Boney, Vice Provost for Outreach and Engagement and Director for the University's Institute for Emerging Issues presented the awards with Executive Vice Chancellor and Provost Warwick Arden offering introductory remarks.
Community Partners
Included in the celebration was the issuance of the 2020 and 2021 Opal Mann Green Award. The award recognizes democratic engagement in which community partners help shape the direction of a project that meaningfully addresses needs within a community. It is unique in that it recognizes not only NC State's University-led program but also each of its contributing community partners for their collective and individual achievements. As a strategic, Brunswick County partner of the Vacationer Supported Agriculture program ("VSA"), Margaret Rudd & Associates Inc., REALTORS ("MRA") joined 22 fellow realty companies, 6 Tourism Development Authority organizations, area farmers and fishers, and Extension directors and agents in receiving the 2021 award.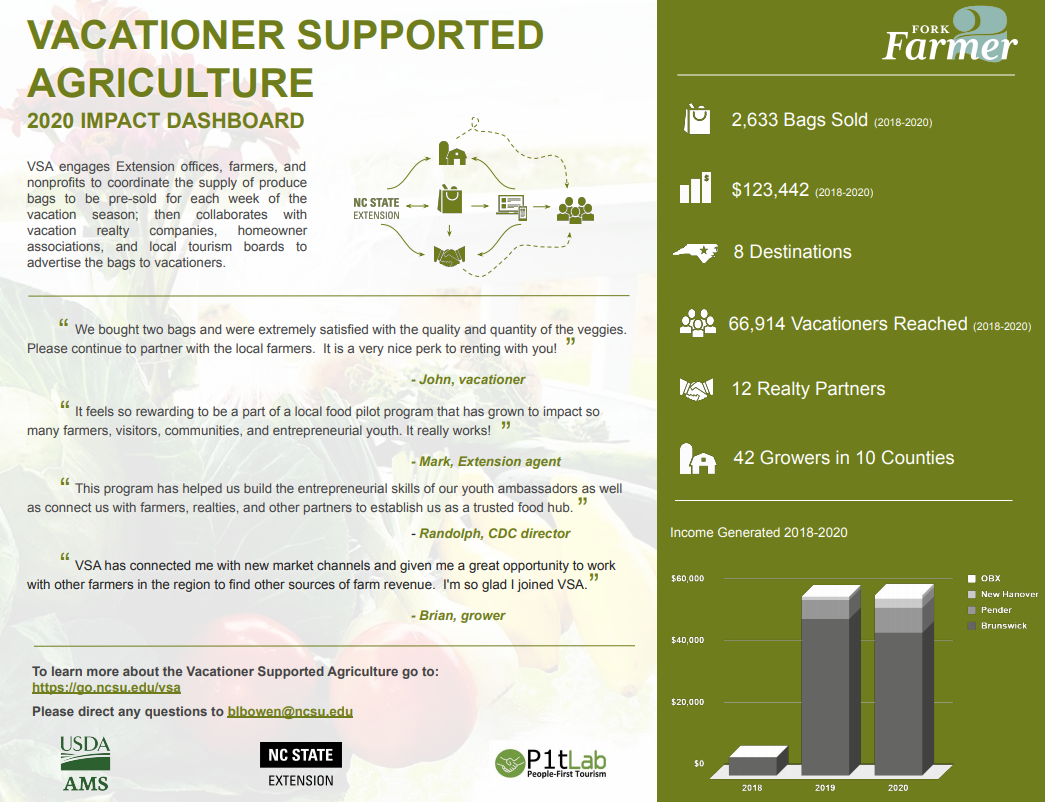 Since 2018, VSA has generated in excess of $126,000 in revenue for farmers in 8 coastal North Carolina destinations. According to Dr. Duarte Morais, Associate Professor of Equitable and Sustainable Tourism, the VSA project and its partners exemplify "the ways in which VSA fuels synergies between tourism and agriculture to make NC destinations more competitive and stimulate tourism microentrepreneurship." Vice Provost, Leslie Boney characterized the program as "the greatest manifestation of service" due to its "reciprocal partnership."
Supporting Local
"As a local, small business with strong, community ties to an agriculturally-rich area it is important for MRA to promote equitable development through tourism and sustainable agriculture practices. Our participation with the VSA program is an easy way to support area farmers and fishers while providing an extremely valuable and convenient resource for our vacation rental guests," commented Jessica Fuller, Digital Content and Marketing Specialist with MRA's property management team and VSA-liaison.
The 2021 season for the VSA program kicks off on May 29th with Margaret Rudd's ordering site already live and accepting orders. "We're excited about the added opportunity for guests to order fresh eggs and shrimp in addition to produce," states Fuller, "and, we hope for continued success for the program overall."
About The Opal Mann Green Award
Established in 2010, the Opal Mann Green Engagement and Scholarship Award is an annual recognition awarded by the NC State University Office of Outreach and Engagement to a team (or teams) of individuals whose significant contributions and accomplishments have demonstrated excellence as engaged scholars who practice collaborative democratic strategies and exhibit responsiveness, respect for partners, academic neutrality, accessibility, integration, coordination, and resource partnerships.