11 Sep 2019
Coastal Carolina's Premier Fishing Tournament
Fall is the perfect time to break out your rods and reels, with the Southport-Oak Island area offering some of the best fishing for anglers. So good, in fact, that over forty years ago a small group of notable community leaders decided that fall fishing here deserved its own annual event. All expenses and prizes were guaranteed through promissory notes by those area principals. The annual event became known as the US Open King Mackerel Tournament.
Now called the Granddad of all North Carolina King Mackerel fishing competitions, the tournament attracts 400 boats, fishing enthusiasts and visitors looking for excitement during their Oak Island vacation. The US Open King Mackerel Tournament will take place October 3rd - 5th, 2019.
Find Lodging for the Tournament

5 "Must Dos" During the Tournament
The flurry of boats along with the captains and adrenaline-fueled crews is enough to excite on-lookers long before the live entertainment begins. Anyone who has attended will tell you, the top five "must dos" during the US Open include:
Watching boat after boat head out to deeper waters from the

Caswell Beach

end of the island as they depart the marina;

Enjoying a delicious fresh seafood plate while breeze comes in off the Intracoastal Waterway;

Dancing the night away in the live oak-lined streets at the Southport Waterfront;

Letting the kids take their turn reeling in the "big one" from the Southport City Pier d

uring Captain Charlie's Kids Fishing Tournament; a

nd,

Cheering on anglers as they parade tournament-worthy catches in the hopes of taking home the top prize.
US Open King Mackerel Record Breaking Catches
The tournament record stands strong with the 53.25 pound catch of Kevin Norris on "Reel Blessed" in 2014. Each year since, the winning catch has decreased in size with last year's winner from Dieter Caldwell on "Tide Line" with a 37.20-pound catch. With over $100,000 in cash prizes awarded in a guaranteed prize structure, the weigh-ins are sure to be heart-pumping for fishermen and spectators alike!
US Open King Mackerel Record Holders
US Open King Mackerel Tournament: Kevin Norris, Sneads Ferry, NC, 53lbs, 4oz (2014)

NC State Record Holder: James Winch, Ocracoke, NC, 82lbs, 4oz (1999)

World Record Holder: Steve Graulau, San Juan, Puerto Rico, 93lbs (1999)*
*According to a January 21, 2019 post from PointClickFish.com, reports circulated of a new world record holder weighing in at 97.8lbs caught by a couple during their honeymoon while fishing with Captain JB and Troy of Topshot Sportfishing in Fort Lauderdale, Florida. We could not verify the accuracy of the new record breaker as of the time of this blog. 
US Open King Mackerel Tournment 2019 Schedule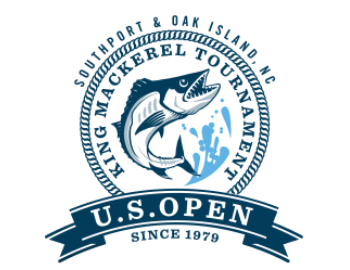 Thursday, October 3
10:00am: Registration and packet pickup
4:00pm to 7:00pm: Entertainment and refreshments 
7:00pm: Captains meeting
Friday, October 4
7:00am: Competition begins
11:00am: Scales open
3:00pm to 6:00pm: Refreshments for sale
5:00pm: Competition ends
Saturday, October 5
7:00am: Competition begins
9:00am: Captain Charlie's Kids Fishing Tournament
11:00am: Scales open
11:00am to 7:00pm: Refreshments for sale
4:00pm: Competition ends
4:30pm to 7:30pm: Entertainment
7:30pm: Awards ceremony

Reserve Your Tournament Accommodations
As a Special Sponsor of the tournament, Margaret Rudd & Associates would love to have you join us in Oak Island and Southport for the early fall weekend. If your captain or crew still needs accommodations for the tournament, we are happy to assist you in finding the perfect vacation rental for your stay. For those participating in the US Open, we will gladly waive the $45 reservation fee on your 2- to 14-night stay with our special Promo Code. (Please note that valid booking and travel dates apply, and proof of tournament participation may be required to receive savings.)