18 Jan 2023
Bruce Brown's infamous movie, "The Endless Summer" depicted the goal of most vacationers: to experience the feeling of a never ending summer.
While the movie's characters focused primarily on chasing the perfect wave, your guests long for the feelings and memories that come with a summer vacation. Before taking the plunge and completely renovating your entire home, let Margaret Rudd & Associates suggest a few easy and inexpensive ways you can put your guests in a vacation state of mind no matter the time of year.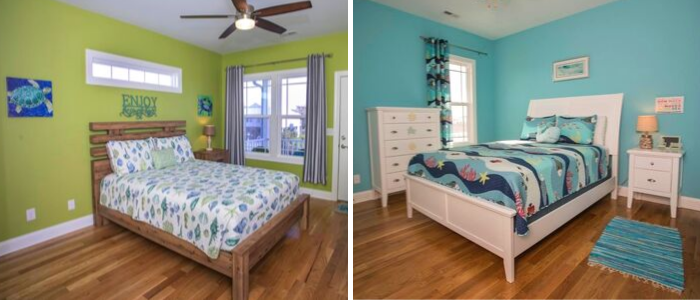 Tropical Trimmings
Take bedrooms and common areas to the islands with coastal-inspired paint colors, bedding and blankets or throws, or nautical-themed decor and accessories. Take baby steps. Start with a new paint color on just one accent wall, add a simple ocean-themed piece of art to a bedroom or bathroom wall, offer a few additional blankets in cool colors, or decorate with a coastal rug and lamp.
MRA Faves
Test one (or more) cool coastal colors on an accent wall in your living area, kitchen or master bedroom.
Add a seahorse print to a simple frame and hang in a smaller bedroom with coordinated bedding.
Try a cozy blanket to give your guests an extra bit of comfort on a cool summer night or during your off-season rental periods.
Kids will get a kick out of cute coral night lights and other nautically inspired decorations found in their vacation digs.

Summer Settings
Rather than undertaking an extravagant remodel or addition, a few manageable additions to the exterior of your home can help ease guests into being vacation ready. These effortless enhancements are just simple items that can set your vacation rental apart from others in the same market.
MRA Faves
Atmosphere is everything. Create a beachy-themed outdoor experience for guests with a string of outdoor lights. Just one strand in the backyard, along a fence, or inside a screened-in porch provides a bit more allure. If running a strand of lights is not feasible, you can always add a few tiki torches for a similar effect.
Kids (and those of us who are still kids at heart) enjoy a great yard game during any outdoor picnic or family event. From the ever-popular game of corn hole to traditional horseshoes, businesses have jumped on the bandwagon and now offer adult-sized yard games like Giant 4-In-A-Row or Giant Jenga for your guests' playing pleasure.
Add coastal charm to your outdoor furniture. Grab some exterior paint in a lovely blue or green and give your rockers, swing or side tables a fresh look with a new coat. For increased flair factor, throw some bright outdoor pillows in the mix.
For those who don't mind investing a bit more, try adding a hammock or swing to your ocean side porch. Guests who stay in properties that offer these items consistently comment and praise them in reviews as an additional place to relax, read a book or take in a gentle ocean breeze.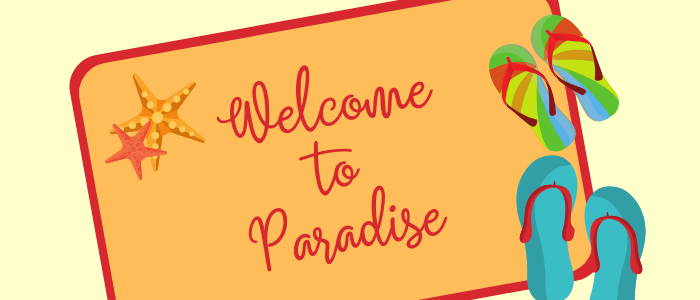 Elevate the Experience
In addition to those previously mentioned, there are other simple items you can place within your home to enhance the guest experience.
MRA Faves
At almost any point during the season, you can pass one of the local ice cream shops and see a line out the door or a crowd gathered inside. Why not give your guests relief from the crowd by supplying them with their very own homemade ice cream maker with instructions and a few recipes?
Greenery and plants (despite the fact that they may be artificial) provide a natural feeling in the home. Add to the tropical atmosphere of your beach vacation rental by adding a few artificial plants to your home. Give your entryway, living area or kitchen counters a bit of flair with an artificial palm, bamboo or banana plant. (Keeping them sparse is key, they do collect dust and you want to keep them looking as natural as possible.)
Here at MRA, we're no stranger to needing that cup of coffee to get us through the day and we know our guests feel the same! You'd be surprised at just how many maintenance calls we receive for coffee makers and/or their accessories. With the rage of coffee drinks, it may be beneficial to offer your guests an alternative to the traditional cup of Joe. Give your guests a spin on their initial glass of "get up and go" juice with any of the variety of coffee, iced coffee and lattee makers on the market.
Creating lasting memories is what a family vacation is all about. The feelings created during the week(s) your guests are in your property set the stage for them wanting to return year after year. Giving them a comfortable place to lay their heads where they also feel ultimately relaxed and at peace, goes a long way in creating a loyal relationship. 
Suggestions for Your Property
For advice on how to incorporate simple items that will make long lasting impacts for your rental property, please contact your property management experts. After all, we're here to help you provide that endless summer feeling for every guest that calls your property "home".