19 Oct 2023
A Memorable Oak Island Experience
Beach bonfires are a wonderful way to gather with family and friends, all while enjoying cooler temperatures and the gorgeous backdrop of an Oak Island sunset.  Many vacationers who visit during "bonfire season" enjoy ending their week-long stay with this budget-friendly celebration. It's a great way to share stories and laughs, and to create a new, treasured memory that you'll cherish for years to come!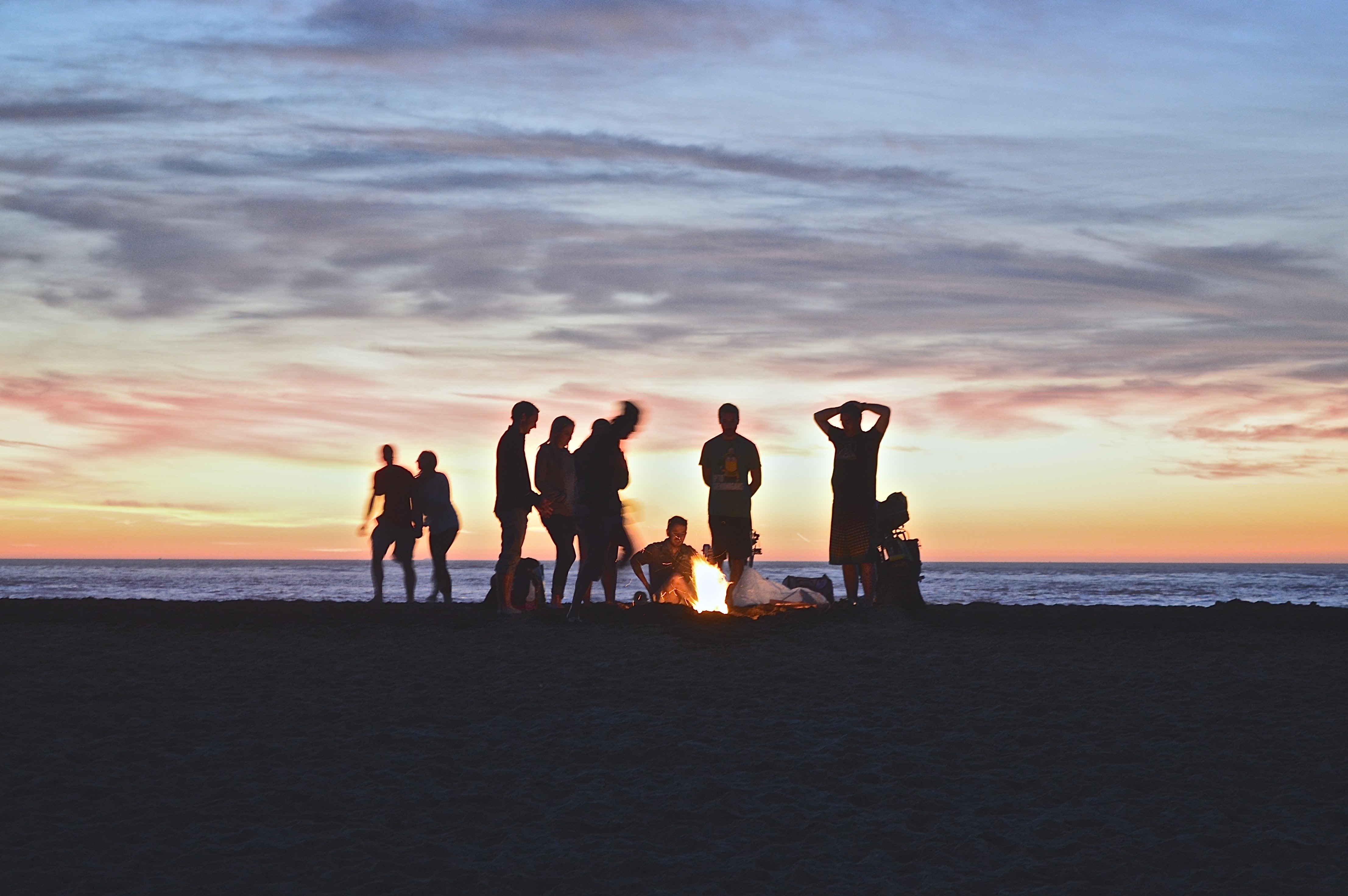 Oak Island Beach Bonfire Season
Beach bonfires are only permitted by the Town of Oak Island between mid-November and mid-to-late April. Beach-goers are required to apply for a bonfire permit within 72 hours of the planned bonfire date and time, and to adhere to all Town ordinances. Bonfires are not permitted when peak windspeeds exceed 15mph. Applying for a permit is quick and easy. The application is electronic, and available on the Town website through the Oak Island Fire Department just before the season starts each year. For information on the permitting period, or to find out the exact dates for Beach Bonfire season this year, visit the Town of Oak Island Beach Bonfire Permits webpage.
Stay Safe During Your Oak Island Beach Bonfire
Once you've received your beach bonfire permit, you'll need to collect your bonfire supplies and educate yourself on bonfire safety.
Suggested Bonfire Supplies
Natural, untreated wood (Larger logs and scrap pieces)
Shovel or sturdy beach buckets
Newspaper
Beach chairs
Coolers
Snack & drink supplies 
Flashlights
Bonfire Safety Tips & Reminders
Safety should be a top priority when building, maintaining and extinguishing a beach bonfire on Oak Island. You'll want to familiarize yourself with all of the rules and ordinances regarding beach bonfires as they also play a role in your safety.  The Town of Oak Island offers the following helpful tips and reminders for your Oak Island beach bonfire.
1.  All bonfires, bonfire materials, participants and any beach gear must remain OFF of the sand dunes and berms at all times.
These areas are restricted areas AT ALL TIMES. The beach should only be accessed using the designated areas. Any gear including towels, canopies, chairs, toys, food, containers, etc. must not be placed in or left on these areas.
2. Beach bonfires should be manageable by a single person.
Bonfires should be maintained in a 4-foot by 4-foot space, or smaller. This may not qualify as a bonfire in your "neck of the woods" but it is small enough that an individual could manage and/or extinguish it on his or her own.
3. All materials (wood) being burned must be natural and untreated.
You should NOT use lumber or manufactured products. Beach-goers should not use gasoline, diesel, tires or other fuels to light or maintain the fire.
4. Fires must be extinguished if winds exceed 15mph.
Even if windspeeds are lower when you submit your application, the fire must be put out as soon as winds exceed 15mph. As a resource, the Town of Oak Island offers a wind speed prediction chart on the same page where you apply for a bonfire permit.
5. There should be someone with a means of contacting 9-1-1 at the bonfire site at all times.
This person should have a cellular device, mobile phone or other means of contacting the fire department in case of an emergency or if bonfire-goers are in need of assistance.
6. You must have a way to extinguish the bonfire at all times.
Acceptable extinguishing devices include an "ABC Type II" fire extinguisher, a bucket of water, and/or a shovel to cover the fire with sand.
7. All burned materials must be completely extinguished and removed from the beach area after the burn.
Simply covering your fire to extinguish it is not enough. Fires can continue to smolder and seriously injure the feet of any person or animal who walks across the burn site. Remember to remove all of the burned items from the site before leaving the beach.
8. Leave the beach cleaner than you found it.
Please remember to remove any additional debris, trash or unburned wood. We need your help to keep our beautiful Oak Island beaches clean!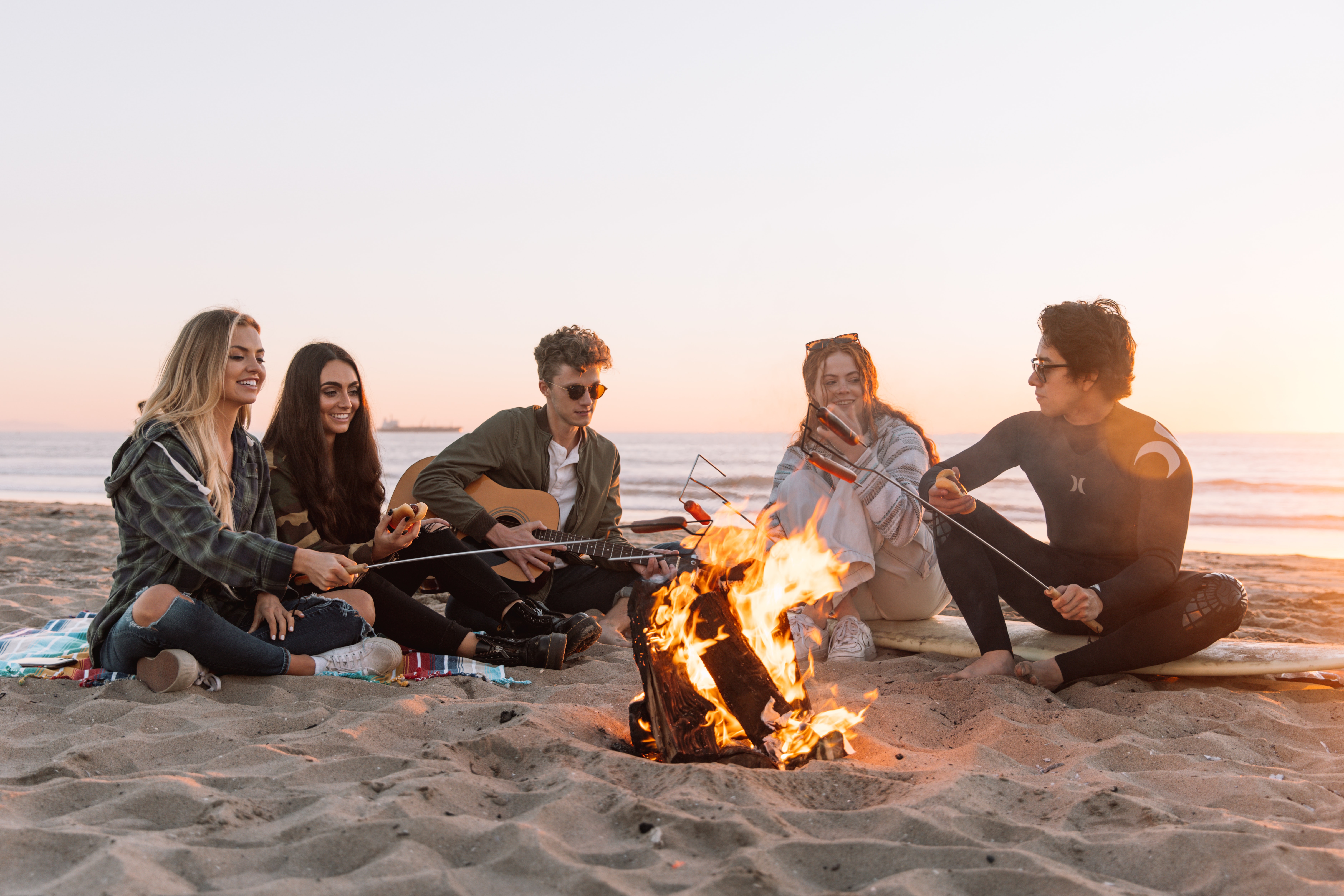 But First, Book Your Vacation Rental
Sharing a beach bonfire with the ones you cherish the most can make for a perfect evening or end to a week-long vacation so long as you stay safe and take care of this wonderful natural resource.  Looking for a special way to pop the question? Want to cap off a wonderful getaway with the kids doing something you can't back home? Why not start a new family tradition by including a bonfire in your vacation future? 
If you haven't already planned your Southport-Oak Island vacation, we invite you to visit us this bonfire season! Not really a colder weather fan? No problem. We have large beach homes, simple cottages and even convenient condos all year long! Simply find your favorite "best of Brunswick County" vacation rental here on our website, or speak to one of our local vacation planning experts by calling (800) 486-5441.  After all, the fun starts here!