11 Jan 2019
An Affordable Way to Travel With Your Pet
You've been planning your family vacation for months, and then it hits you - what are we going to do with the dog?!?
Unfortunately many accommodations carry strict no-pet policies for guests. Those fortunate enough to find a hotel within a convenient distance from their vacation destination still battle with size restrictions, limitations on where the animal may actually roam, as well as additional (high) fees.
Pet-Friendly Accommodations
While the same may be true for vacation rentals (think: condominiums and private homes), an increasing number of property owners are offering their properties as pet-friendly accommodations. As opposed to a hotel, a private home offers your fur baby the security of being with family while having access to enclosed yards and long walks on the beach. Not to mention, the person footing the bill for the trip could potentially save a good amount of money by paying a low, flat rate pet fee rather than an additional nightly amount.
Rather than leaving Fluffy home or boarded with strangers, bring her along for the ride and let her enjoy the Oak Island vacation right along with the rest of the family.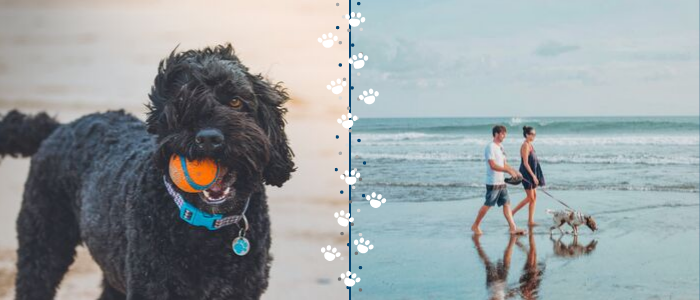 Considerations for Your Pet-Friendly Vacation
When it comes to traveling to Oak Island with your pets, there are far more items to consider than just packing the necessities (bedding, bowls, food/treats, leash, toys, etc.).
Pet Safety
Keep plenty of fresh water available to them and encourage them to drink often. Many dogs like to drink the salty ocean water but it is not good for them.
Protect your pup's paw pads from the hot sand during the summer. It is best to walk in the early morning or late evening when the sand is cooler. 
The hottest time of the day will be from noon to 4:00pm. It is a good idea to avoid having your pet in the sun or on the pavement during this time.
Dehydration can happen much faster in the summer. When you are away from your vacation rental, be sure to pack water for your pet, and pack about twice as much as they would normally drink.
Pets with shorter or lighter-colored fur are prone to sunburn easily, especially on their nose and ears. If shade is not available, please consider bringing a sunscreen made specifically for pets.
Leash Laws
Both Caswell Beach and Oak Island vary regarding leash laws as does the City of Southport. For the most current and accurate information when it comes to regulations and ordinances regarding pets, be sure to visit the towns and city websites. In general, the following information is available regarding those laws.
Caswell Beach Unleashed dogs that are under the control of their owners are permitted on the beach between dawn and 9:00am. During the cooler months from October 1 to April 30, unleashed dogs under the control of their owners are also permitted on the beach between 3:00pm and dark. They must be on a leash at all other times.
Oak Island Generally speaking, between March 15 and October 15 all dogs must be on a leash at all times. From October 15 to March 15, dogs are permitted on the beach without a leash from 6:00am to 8:00pm given that they are not left unattended, that they are under visual and voice control at all times, and that they do not visit with other beach-goers or dogs without permission.
Town of Caswell Beach  Town of Oak Island
Tips & Tricks for Your Pet-Friendly Vacation
Be sure that your pet wears an ID collar complete with your cell phone number. If your pet's collar has your home phone number listed and you are on vacation, it will be difficult to contact you in the event he/she runs off.
Rinse your pet with a hose or using the vacation rental property's outdoor shower at the end of each day. Sand and salt are just as uncomfortable for your pet after a long hot day.
Be mindful of your pet overexerting him- or herself when playing in the sand or surf. Like children, they won't always stop for a break when they're having fun.
Ensure that your dog's flea and tick prevention is up to date. Check for ticks at least once a day, espeically if they go on the beach after dark.
Bring (or order) extra towels for drying your dog after rinsing him or her of salt and sand each day.
Please pick up and properly dispose of your pet's waste to ensure the continued enjoyment of the surrounding beaches.
Choosing Your Pet-Friendly Accommodations
Now, with all of this knowledge about traveling to Oak Island with your pup the only thing left to do is to choose your pet-friendly accommodations. Specifically for an Oak Island vacation, this can be as easy as a simple online search or a phone call to Margaret Rudd & Associates' Oak Island office at (800) 486-5441. Our reservation specialists are happy to assist you in finding the perfect vacation rental to suit your entire family. After all, "The Fun Starts Here" for everyone, including your four-legged fur babies.