24 Oct 2019
Stories to tell in the Dark
The prevalence of third party booking sites and online travel agencies (OTAs) ushers in a new wave of potential nightmares for vacation rental guests. Unfortunately, reports of uninhabitable properties (to the lack of an existing property altogether), fraudulent charges or ads, double bookings, etc. increases along with the popularity of short term rentals.
Booking your Oak Island vacation through a reputable property management agency certainly helps avoid nightmares like those mentioned above. However, we also have a few suggestions for you and your family to consider (or to take action on) prior to booking your stay so you hopefully avoid any shocking or scary situations during your getaway.
Research, Research, Research
Research the Agency
The majority of Margaret Rudd & Associates' guests return to our agency year after year with some having joined us for their Southport-Oak Island vacation for 30 years or more. Those new to our agency use search engines and referrals to reach our website and happen to book online or over the phone. For new guests or those shopping for their next vacation rental accommodations, we highly suggest researching the property management agencies available to you for the area to which you are traveling.

Ways to Research
Company Website - A great deal of time and effort goes into making a company website as informative and helpful as possible. Spend some time looking around the company website for information on the company, its time in business, its staff and just how it conducts business.
Online Listings/Reviews - The most valuable feedback you can receive as a potential guest is from others who have utilized the service, rented the properties, etc. Read through any online reviews you can find including Google business listings, Facebook accounts, etc. Don't just stop at one review. Individuals carry different expectations when it comes to vacationing. Pay attention to how agencies respond to negative reviews. You can not only filter unsatisfactory properties you may consider, but you can also filter agencies who may not provide the level of service you expect.
Research the Area
Researching the area to which you are traveling is not only important for budgetary reasons but also for accommodating your family's needs or expectations. Although Oak Island is only 14 miles long, it has 3 distinct beaches each with very different characteristics. If your family prefers a quiet beach getaway in a more secluded area then you probably want to stay away from certain portions of the 14 miles. On the other hand, if you like to people watch and be in the mix of dining and shopping options then you would prefer another area.

Ways to Research
Maps/Location - Reference the map or location of the property you plan to rent. G

uests looking to rent a calm and peaceful place should steer clear of homes near a public beach access or pier.

Consider Transportation Options - For our area, there is no public transportation so knowing how far you are from a grocery store, restaurant options, etc. will be paramount in selecting your accommodations - specifically if you hope to walk to most places.
Events - Find out what local events are scheduled during your stay. For example, the 4th of July is our busiest time for rentals. Guests anticipate it to be busy but those who do not realize that Southport is the official location for North Carolina's official 4th of July Festival may end up quite shocked to experience the additional 40,000 to 50,000 people in our area. Others may be completely thrilled with all of the activity.
A simple call or email into our office will answer quite a few questions about the area. Margaret Rudd & Associates prides itself on maintaining a staff of local area experts who are well prepared to answer questions about Southport and Oak Island with much of the staff living and working here most of their lives. We also provide an extensive Area Guide on our website where you may find information including a list of things to do, upcoming events, beach information, a list of area restaurants and shops, and much, much more!
Research the Property
Accommodations that fall short of expectations do not always equate to refunds or relocation. When researching properties for your vacation, determine your "deal breakers" for your stay. Do you have members of your home who cannot climb a flight of stairs? Are you traveling with more than one family and will need more than one master bedroom? Are you happy to stay in an oceanfront home with knotty pine walls and a more traditional feel versus a 2nd row home with granite countertops and modern amenities? Do you need a dog-friendly property?
Ways to Research
View the Photos & Description - Most short term rentals are individually owned and furnished/decorated per the individual owner's tastes. Keep in mind that agencies that manage a number of properties cannot be expected to update property photos every time construction happens or the furniture changes. If an ocean or waterway view is a deal breaker for you, inquire with the office as to if those are going to be affected. 
Verify Property Amenities - Some items are considered contractually binding whereas others are not. Once a contract is signed, it is considered binding and agencies are not always in a position - either due to availability, price, owner wishes, etc. - to move you upon your request. (Refer to your contract for specific items like information on equipment breakdown, etc.)
Policies, Procedures & Protection
Protect Yourself
The vacation rental industry is one of the fastest growing commercial industries around the world. However, one of the main issues facing short term rentals is regulation. Many OTAs do their best to work under local and state laws; however, in many instances there exists no recourse when it comes to tenant rights. On the other, much more beneficial end, property management agencies like Margaret Rudd are required to abide by local, state and federal laws when it pertains to regulations, tenant rights, etc. 
Another common problem reported by OTA guests is owners or uninvited visitors to the home, or even duplicate bookings. Even with agency-managed rentals, owners may not be as current on booking calendars or they could be staying in a private, adjoined apartment. Report any and all issues to your agency. The agency should clarify any issues with regard to a private apartment or duplex situation and can resolve problems involving owners much easier and often more quickly than expected. 
Other ways to avoid any unexpected, scary situations include following the arrival and departure procedures as dictated by your contract and the agency. Do not go to your rental property prematurely or stay after any scheduled departure times. Keep in mind that agencies clean and provide maintenance services in between arrivals and departures, specifically during the busy season. Make sure to clear any early arrivals or late departures with the office versus assuming that those benefits will be afforded automatically.
Paperwork before Payment
The industry is trending toward handling more items electronically or through digital means like online booking and/or software such as Margaret Rudd's own Guest Access Portal. This trend makes booking and securing your stay extremely convenient and efficient. Essentially guests make selections at the time of booking (or shortly thereafter), agree to certain terms and conditions, and are provided a copy of a signed Vacation Rental Agreement or rental contract. While this is convenient, it does allow room for discrepancies and unclear situations.

Read through the terms and conditions of the contract before signing anything. With our website, the terms and conditions are found on the booking page just below where a guest makes his/her selections for the reservation. Guests are required to agree to those terms and conditions by checking a box.
Contact the management agency with questions or discrepancies. The issue could just be a matter of simple clarification. Situations warranting a contract reset can be handled immediately and your reservation noted to avoid confusion during your stay.
Protect Your Vacation Investment
Safeguarding your trip and your peace of mind comes easy when renting through a property management agency. Along the coast we know all too well how inclement weather alone can affect your ability to travel or maintain a week long vacation. Terms and conditions with regard to refunds when companies offer optional protection vary dramatically. Assuming you will automatically receive a refund for a cancellation, trip interruption or mandatory evacuation is not the best method to follow. When companies offer optional protection for you as a guest/consumer, we suggest weighing your options and taking advantage if you feel it best for your family.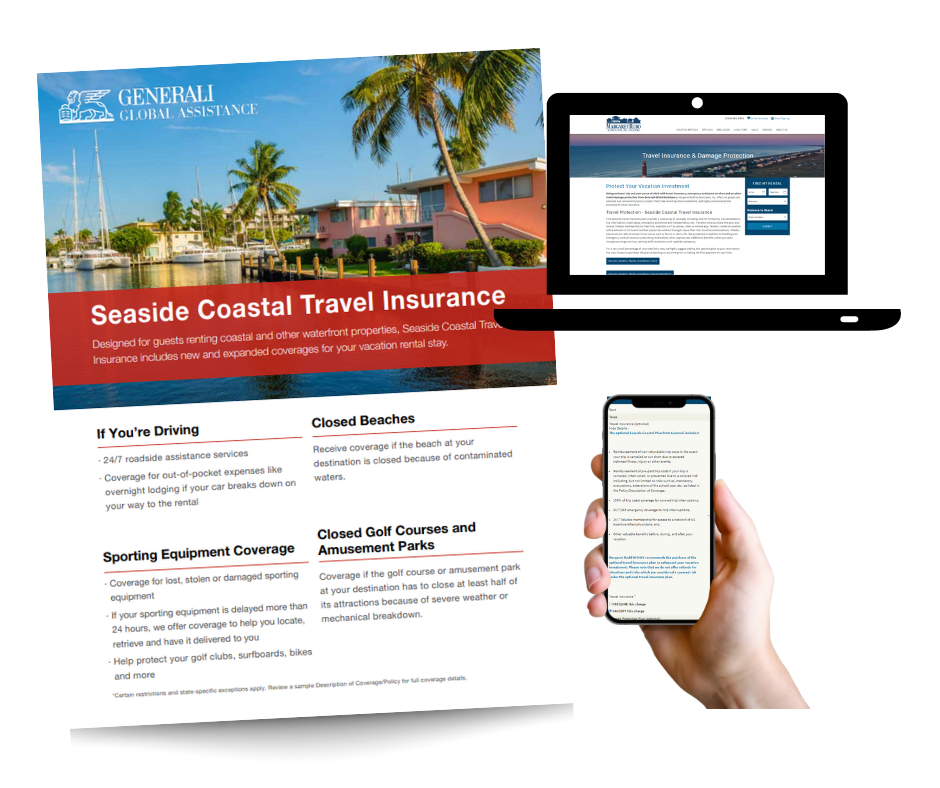 Research - As mentioned above, the best method is to research a company's policies and procedures when it comes to unforeseen circumstances. Familiarize yourself with your Vacation Rental Agreement and any policy documents for optional plans selected (described further below).
Travel Insurance - Optional travel insurance provides a wide array of coverage including, but not limited to, trip cancellation, trip interruption, travel delay, emergency assistance and transportation, etc. Additional benefits can include concierge services, identity theft protection and roadside assistance. As an agency, we offer this protection at just 7.95% of your total reservation cost and consider it vital during hurricane season specifically.
Damage Protection - Weigh your options for protection against accidental damages. At Margaret Rudd we offer an optional, non-refundable damage protection plan that provides coverage in the event that accidental damages occur during your stay. Guests also have the option of choosing a $400 refundable security deposit in lieu of this damage plan.
Book Direct with Margaret Rudd
When renting your vacation accommodations through an agency like Margaret Rudd, you certainly find yourself in a much safer situation due to a variety of reasons as mentioned above. However, keep in mind that a little preparation and research before booking your getaway will go a long way in protecting yourself from any last minute scares or nightmare scenarios.
Be sure to take a second to view our Area Guide, Vacation Rental Policies and ways you can Protect Your Vacation Investment right here on our website. As always, reach out to our local vacation planning experts if you have any questions. We are here 7 days per week to assist you by phone call to (800) 486-5441 or email to information@rudd.com.
Oak Island Area Guide MRA Vacation Rental Policies Protect Your Vacation Investment