16 Nov 2023
Thanksgiving is just a week away, so it's time to start finalizing those meal plans. If you're visiting Oak Island and looking for ways to save on prep and clean up in your vacation rental or just want to lean into an easy-going holiday this year, choosing to pass the apron to the talented chefs in the area is the perfect option! We've gathered all the details on seven restaurants around Oak Island that are offering delicious homemade Thanksgiving menus to make planning, ordering, or reserving a table a breeze. Check them out below.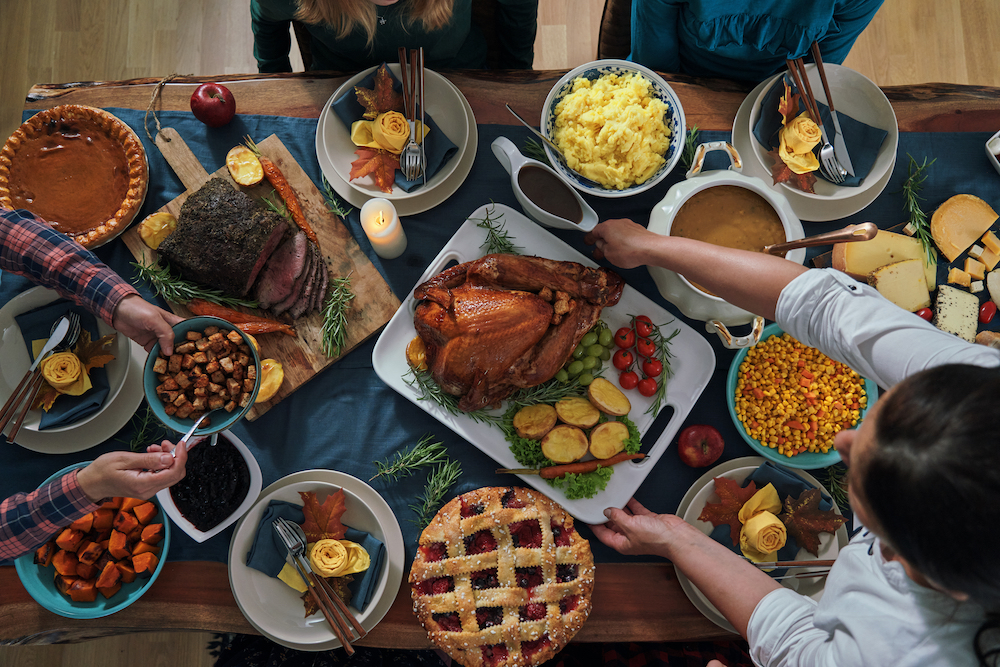 All orders are $69.00 per person plus tax: optional gratuity.
Takeout should be ordered before 12 pm on 11/22/2023. Pick-up on 11/23/2023, 11:30 am to 12:30 pm. No menu substitutions allowed. Call 910-457-4544 to order.
Couples packages as well as family options for 4-6 people are available:
Package for 2 (Turkey)
2 cups of soup or 2 salads
Up to 2 pounds of turkey
1 quart of mashed potatoes
1 quart of cornbread stuffing
1 quart of green bean casserole
1 pint of cranberry sauce
1 quart of gravy
2 slices of pie
Package for 2 (Ham)
Two cups of soup or 2 salads
up to 2 pounds of ham
1 quart of sweet potato casserole
1 quart of creamed spinach
1 pint of demi-glace
2 slices of pie
Family Package for 4-6 (Turkey)
4-6 cups of soup or 4-6 salads
Up to 4 pounds of Turkey
2 quarts of medium potatoes
2 quarts of stuffing
2 quarts of green bean casserole
1 quart of cranberry sauce
2 quarts of gravy
4 slices of pie
Family Package for 4-6 (Ham)
4-6 cups of soup or 4-6 salads
Up to 4 pounds of ham
2 quarts of sweet potato casserole
2 quarts of creamed spinach
1 quart of demi-glace
4 slices of pie
Dine-in only. $55.00 per person plus tax and gratuity. $17.00 for ages 10 and under. Kids under 4 eat free. Reservations are required.
Let's Chill:
Tropical and domestic fresh fruits of the season - artfully arranged with Grand Marnier fondue and pina colada custard
Planked Wedges of Iceberg Lettuce - surrounding mixed American field greens with vine-ripened tomatoes, cucumbers, carrot zest, bacon crisps, croutons, mushrooms, red onions, cheddar-jack, and crumbled blue cheese
Our chef's selection of housemaid dressings - Sherbed buttermilk ranch, Danish blue cheese, balsamic vinaigrette, and honey mustard hey buddy
Ensalada Caprese Platter – vine-ripened grape tomatoes with fresh basil, mozzarella, extra virgin olive oil, cracked pepper, and aged balsamic glaze, homestyle jellied cranberry, granny smith apple salad with pineapple, pecans, and Mandarin oranges
Classic Tossed Caesar Station – crisp romaine, shaved romano, herbed croutons, and creamy Caesar dressing
German Style Potato Salad – with scallions and peppered hot bacon vinaigrette
Poached Whole Sixty South Salmon Display – coupled with poached and marinated butterfly shrimp served chilled with cucumber, lime, and chipotle
Mom's Creamy Cucumber Salad
Four Cheese baked Mac & Cheese
Salty Vibes:
Chef's Famous Fried Chicken
Slow Roasted & Chef Carved Garlic Herb-Crusted Prime Rib of Beef – cabernet au jus and creamed horseradish
Oven Roasted Tom Turkey – chef carved with giblet gravy and cornbread stuffing
Whole Smithfield Carved Honey and Pineapple Smoked Ham – lightly cloved and glazed
The Freshest Local Fish Available – pan-fried over Lowcountry stone ground grits with creole crab sauce
Brown Sugar, Cinnamon, & Nutmeg Roasted Sweet Potatoes – with butter and marshmallows
Loaded Smash Potatoes – bacon, cheddar, chives, sour cream, horseradish, and roasted garlic loaded!
Charbroiled Vegetable Pasta Proline – over sundried tomato, parsley, basil, pesto, with balsamic glaze and olive oil.
Slow Braised Cabbage
Green Bean, Fava, & Carrot Sauté – with red and yellow peppers
Little Ones:
In addition to our Thanksgiving feast, little ones can order these choices: chicken tenders, hamburger, buttered pasta, pb&j, or hot dog with fries or fruit cup.
Sweet Sunsets:
Oki Confections Blitz – a veritable smorgasbord of confections with apple cobbler and trolley stop banana pudding, as well as cakes, pies, and pastries.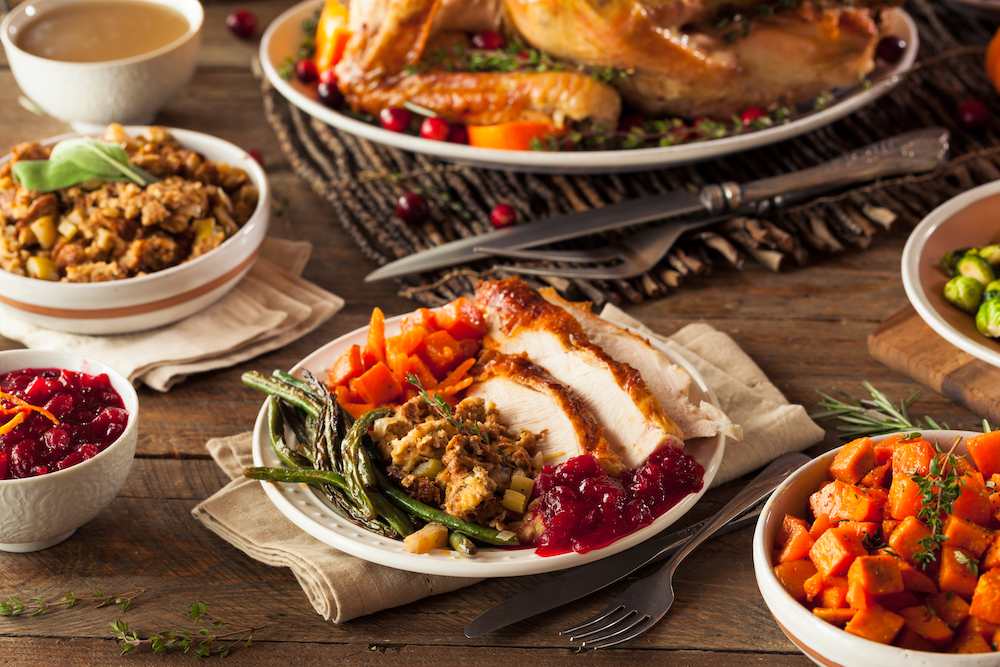 $27 per plate. Dine-in or to-go available. Call (910) 579-7788 for reservations or advanced orders.
Turkey
Ham
Green beans
Broccoli casserole
Rice
Sweet potatoes
Cranberry sauce
Stuffing
Mashed Potatoes
Salad
Beverage
Choice of cornbread or dinner roll
Sweet Potato or Pumpkin Pie dessert
Orders must be placed by 11/20/2023. Call (910) 933-4103 to order. All items will feed 6-8 people.
Create your own Thanksgiving Meal from the offerings below:
Oven-roasted turkey breast $41
Spiral sliced ham (8 pounds) $50
Our much-loved gouda potatoes $35
Homemade mac n' cheese $30
Green beans $28
Cornbread stuffing $30
Turkey gravy $9 per quart
Desserts: *All made from scratch
Our famous coconut cake $30
10" NY style cheesecake $30
10" Oreo cheesecake $35
Chocolate chess pie $25
Fan favorite key lime pie $20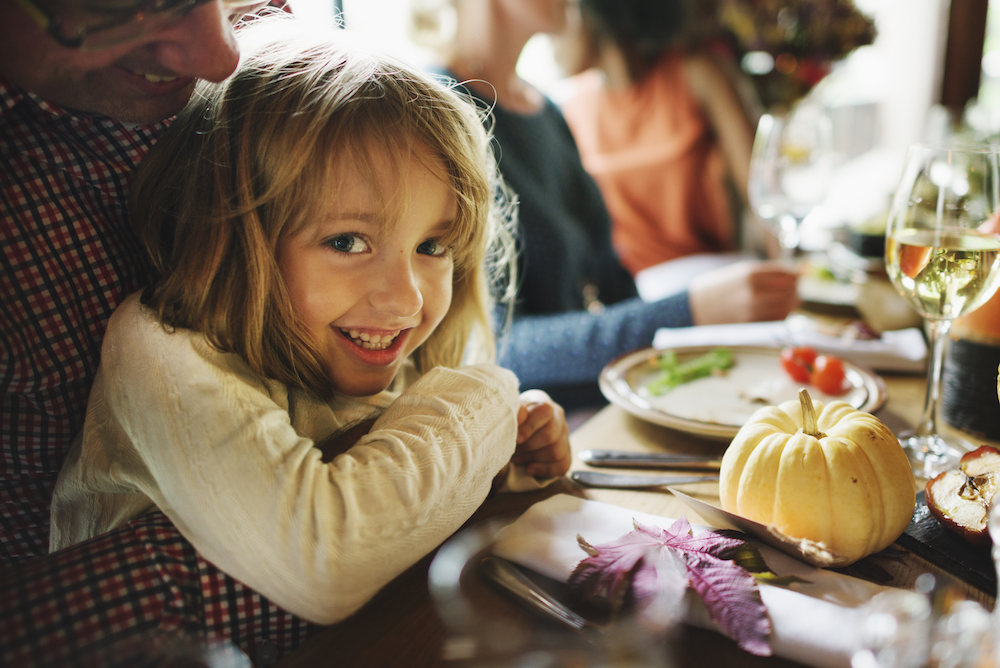 Dine-in only. $48.00 per person. $22.00 for ages 12 and under. Reservations are required. Call (910) 579-6875 to reserve your spot. 11 am to 7 pm. *Regular menu will not be served.
Available Appetizers:
Boom Boom Shrimp
Caesar salad
Oysters Rockefeller
Beet Salad - with walnuts, goat cheese, and honey vinaigrette
Prix Fixe Dinner:
Choice of Soup:

Butternut squash
She crab soup
Choice of Entrée:

8-ounce filet mignon
Stuffed flounder with shrimp and crab stuffing
Roast turkey breast and baked ham dinner

Sides on all plates:

Turkey gravy
Idaho mashed potatoes
Traditional cornbread stuffing
Candied yams
Seasoned green beans
Cranberry & apple relish

Choice of dessert:
All orders are $159.75 and serve 8 people.
Takeout must be ordered before 2 pm, Sunday, 11/19/2023, and picked up during designated pickup time (before noon) on Wednesday, 11/22/2023. To order, call (910) 755-6642 ext. 2.
Menu offerings:
Sliced Black Oak Ham or Apple & Rosemary Pork Loin

Ham is glazed with honey and brown sugar, then baked and sliced. Sold in 2-pound, 4-pound, and 6-pound increments. Serves 3 people per pound.
Pork Loin is served with cider jus. 8-10 servings per pork loin.

4 signature sides
1 dozen assorted rolls
1 cake (cheesecake excluded)
Sides (served in 2-pound containers) serve 6-8 people and include:
Broccoli and cheese casserole
Brussels sprouts with crumbled bacon
Buttermilk mashed red potatoes
Country green beans
Flame-roasted corn and peppers
Green bean casserole
Honey-glazed baby carrots
Oyster dressing
Southern-style cornbread dressing
Sweet potato casserole
Freshly assorted baked rolls by the dozen
Cakes serve 16-20 people and include:
Seven-layer cake
Carrot cake
Coconut cake
Death by chocolate cake
Dream cake
German chocolate cake
Oreo cake
Red velvet cake
Shadow cake
Boston cream pie
Sundrop pound cake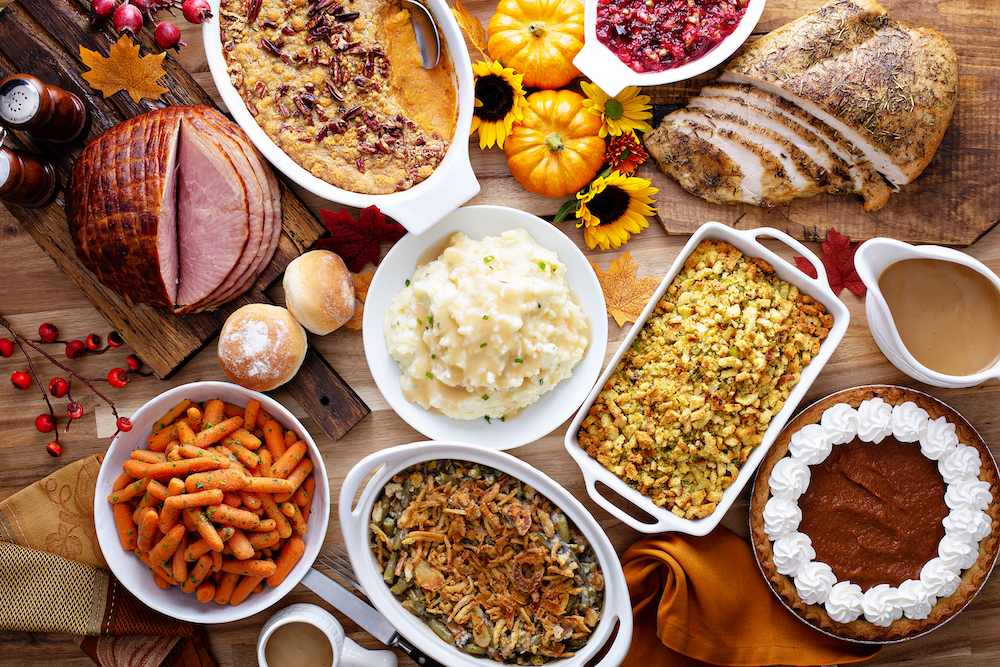 Dine-in or preorder for take-out is available. $44.00 per person. $22.00 for children aged 12 and under. Reservations are required and can be made by calling (910) 579-8888. Service will go from 10 am to 7 pm.  
Available Starters:
Basket of croissants
Firecracker shrimp
Crab bites
Salad:
Choice of Entrée:
Sides:
Green beans
Turkey gravy
Cranberry sauce
Traditional yams
Mashed potatoes
Traditional stuffing
Choice of Dessert:
Book Your Oak Island Holiday Home Today
This Thanksgiving, take the work out of the holiday and spend time doing what really matters: making memories with your loved ones. As you plan your Oak Island Thanksgiving vacation, be sure to check out our vacation rentals and book directly with Margaret Rudd. We can't wait to welcome you home for the holidays to our beloved piece of paradise.