8 Jun 2023
Dive into your Oak Island vacation when you book any of our 15 vacation rentals with private pools! After a long day of sand and surf, imagine coming home to a cool, refreshing oasis right in your own backyard. Need a break from carrying everything to the beach? No problem! When your vacation rental has a private pool, you get the added convenience of always being just steps away from the fun! With properties throughout Oak Island, all ranging from four to six bedrooms, we have the perfect place for you and your family or group to call home during your stay. So, if you're dreaming of an Oak Island getaway that comes with that extra bit of luxury, look no further than these 15 incredible homes. 
Oceanfront
Poolside Paradise

6 Bedrooms | 4.5 Bathrooms | Sleeps 12
This gorgeous oceanfront 6-bedroom property located in Caswell Beach offers larger groups all of the space they need to spread out. The large covered porches and oceanfront pergola offer plenty of space to relax and soak up the sun while enjoying the stunning ocean views. Not to be out shadowed, Poolside Paradise also sports an exquisite private heated pool!
Featured Amenities:
Expansive deck with spectacular ocean views
Private pool for leisurely lounging
Proximity to the beach for convenient coastal access
Lighthouse

6 Bedrooms | 4.5 Bathrooms | Sleeps 14
With three balconies, an oceanfront view, and a private pool, Lighthouse offers Oak Island vacationers a picture-perfect home away from home. This spacious rental is large enough to accommodate multiple groups, so it's perfect for a joint vacation with friends or extended family. With an elevator to make loading and unloading a breeze, you'll be poolside in no time. Enjoy night swims lit by the glow from the fire pit. With private beach access and a prime location only a few steps from the pier, you really get the best of both the beach and your home when you book your stay in Lighthouse. 
Featured Amenities:
Expansive deck with ocean views
Private pool for leisurely lounging
Proximity to the beach for convenient coastal access
Fully-stocked kitchen for effortless meal preparations
Sea Winds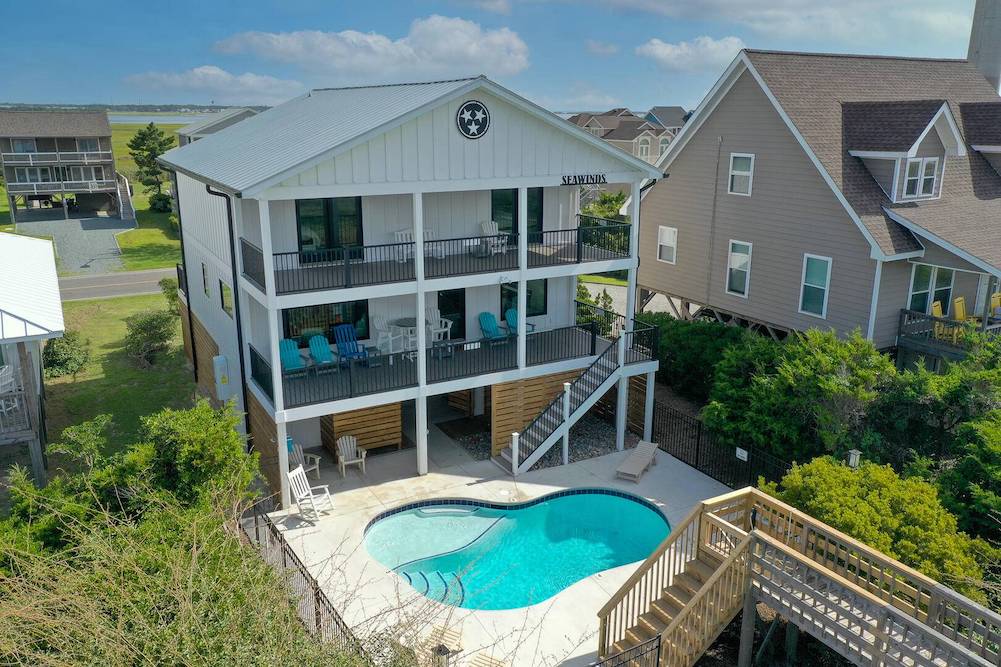 5 Bedrooms | 4 Bathrooms | Sleeps 13
Experience the beauty of Caswell Beach on your Oak Island vacation at Sea Winds, a stunning oceanfront 5-bedroom home. With brand-new flooring, a remodeled kitchen, and updated bathrooms, this property has undergone impressive renovations for its 2023 guests. Enjoy breathtaking views of the Atlantic from the ocean side and a picturesque sight of the Oak Island Lighthouse from the sound side. With its spaciousness, cleanliness, and a range of amenities, Sea Winds provides a peaceful retreat in Caswell Beach, while still offering easy access to nearby grocery stores, restaurants, and shopping options.
Featured Amenities: 
Oceanfront
Recently renovated
Convenient location
Ocean Hideaway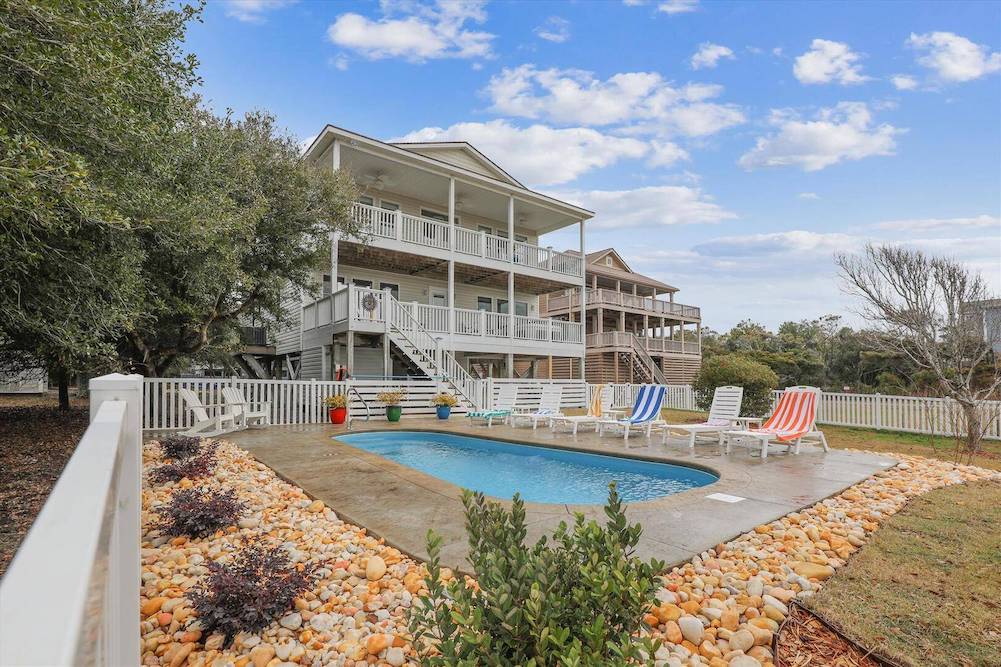 5 Bedrooms | 5 Bathrooms | Sleeps 14
Make your way to Ocean Hideaway, a spacious oceanfront retreat nestled in the heart of Oak Island. This peaceful getaway offers stunning views of the ocean, marsh, and pond from its two oceanfront decks. Enjoy the convenience of a heated and cooled inground swimming pool, an outdoor shower, and a hot tub for ultimate relaxation. The beautiful interior features a large family room, dining area, and well-equipped kitchen with panoramic ocean views. With five comfortable bedrooms, each with its own bathroom and entertainment amenities, Ocean Hideaway is the perfect destination for creating cherished memories on Oak Island.
Featured Amenities:
Spectacular views
Heated and cooled pool
Proximity to restaurants, shops, and entertainment
Dog-friendly with a fenced-in yard and dog wash area
Cooper's Landing


5 Bedrooms | 4.5 Bathrooms | Sleeps 10
Discover this brand-new beach house on Oak Island, designed for ultimate relaxation and comfort. With 5 bedrooms and 2 living areas, there's plenty of space for larger or multi-generational family getaways. Enjoy stunning ocean views from the multi-level porches and bask in natural light with the inverted floor plan. With a convenient location to restaurants and activities like Oak Island Jungle Golf, you'll always be seconds away from the fun! Make lasting memories at this inviting vacation rental that's sure to become your go-to Oak Island home.
Featured Amenities: 
Private pool 
Elevator 
Open decks 
Proximity to restaurants, Oak Island Jungle Golf, and Lil and Jons Sweetreat 
Second Row
Fringe Benefits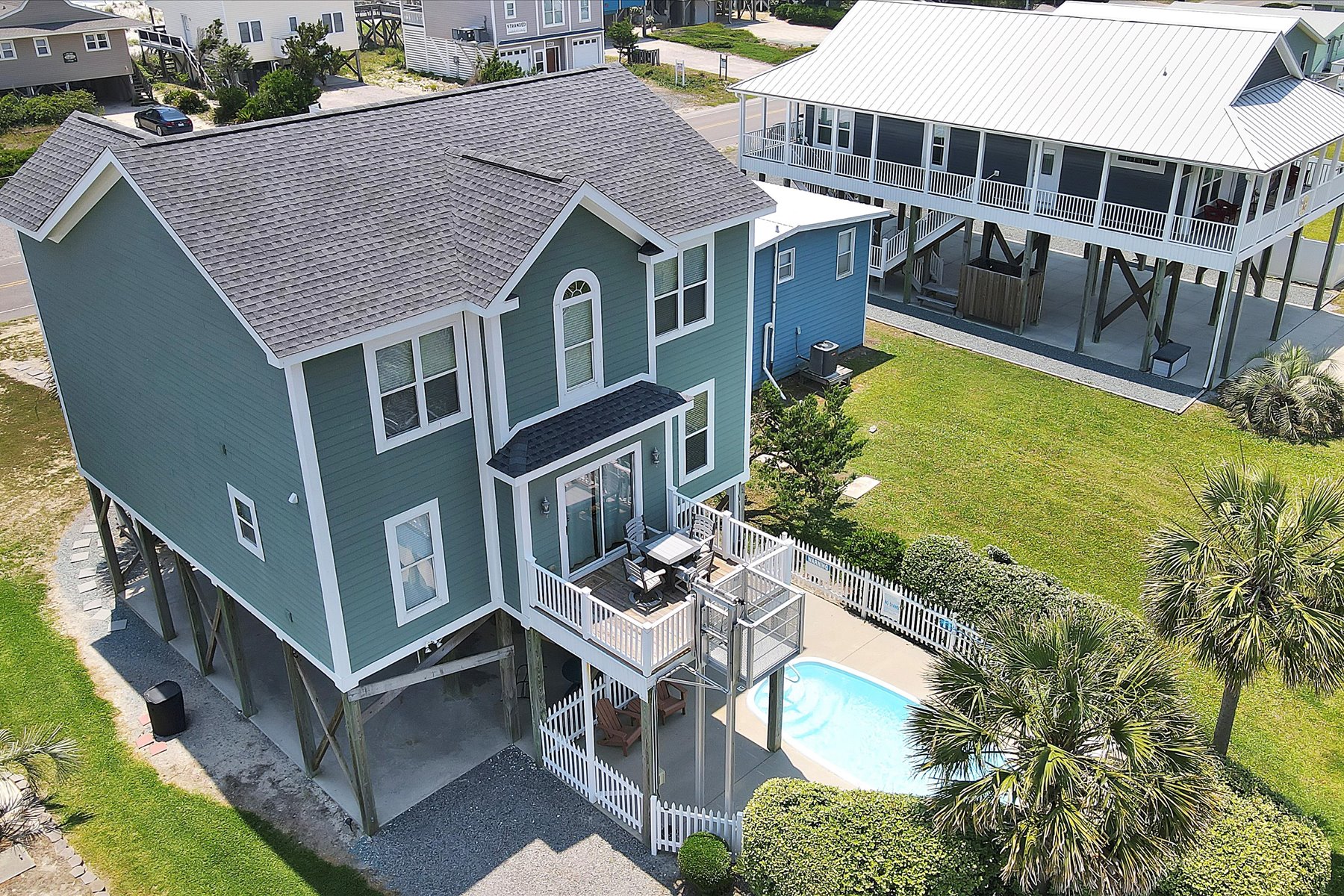 5 Bedrooms | 3.5 Bathrooms | Sleeps 11
Welcome to Fringe Benefits, a charming vacation rental conveniently located in East Beach, near the Ocean Crest Fishing Pier and a short drive from various island amenities. This spacious home offers a large main living area, as well as a fifth bedroom that doubles as a second living space, perfect for families to relax and enjoy quality time together. With freshly painted interiors, and a beachy ambiance, guests can truly indulge in the relaxation and benefits of an Oak Island vacation.
Featured Amenities:
Private pool
Deluxe enclosed outdoor shower with changing area
Outdoor gas grill 
Two covered ocean-side porches and a rear deck for enjoying the sunrise or sunset views
Bootsy's Fantastic Voyage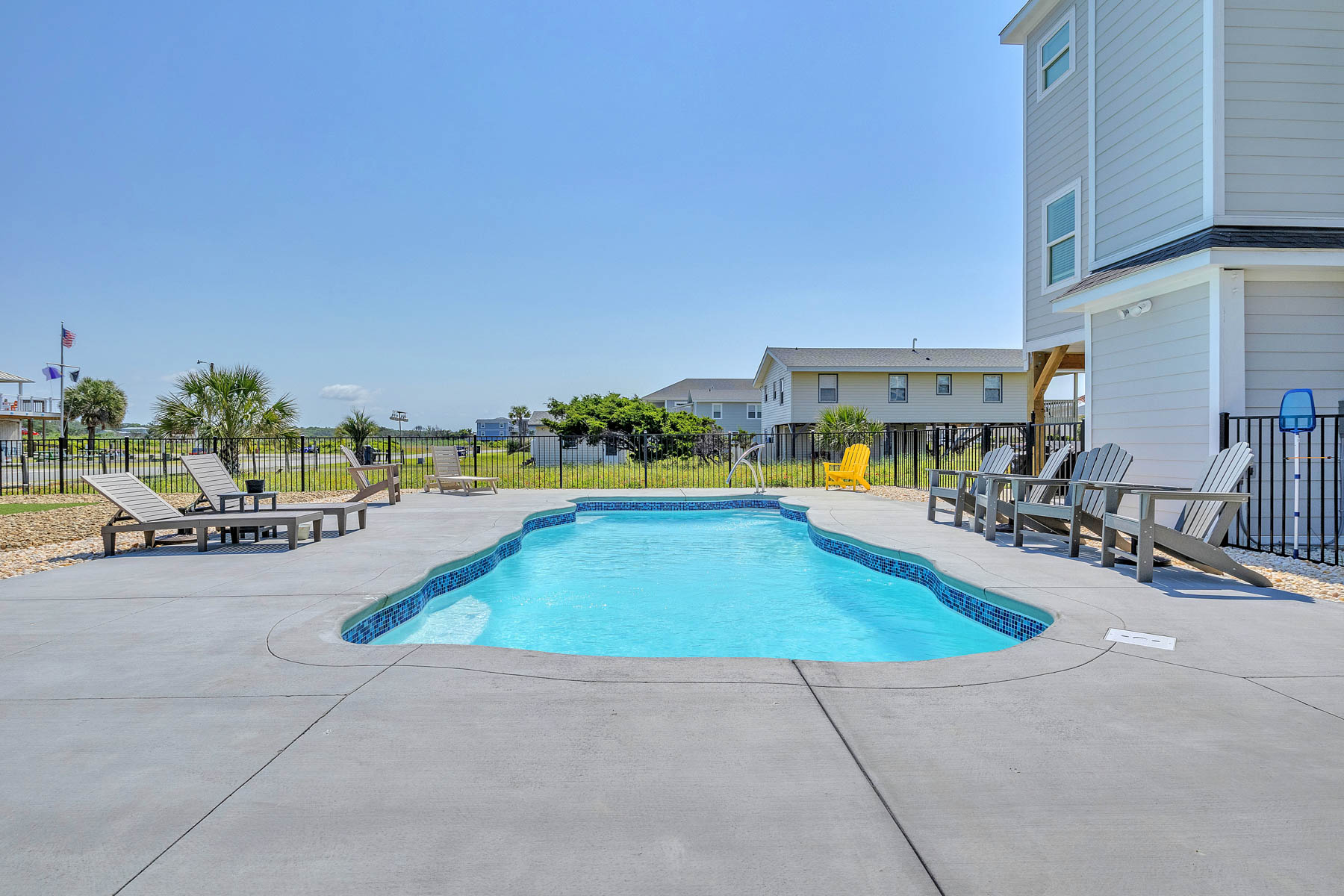 5 Bedrooms | 4.5 Bathrooms | Sleeps 14
Escape to Bootsy's Fantastic Voyage, a newly constructed 2nd-row property that offers the perfect retreat for your family vacation on Oak Island. With its spacious interior, including multiple living areas, open concept dining area and kitchen, comfortable bedrooms, and large ocean-side porches, there's plenty of space to relax and unwind. This property is packed with amenities, including an elevator, hot tub, and private pool, ensuring entertainment for guests of all ages. Conveniently located near Middleton Avenue, Bootsy's provides easy access to island shopping, groceries, and restaurants.
Featured Amenities: 
Private Pool
Hot Tub
Elevator
Darlington House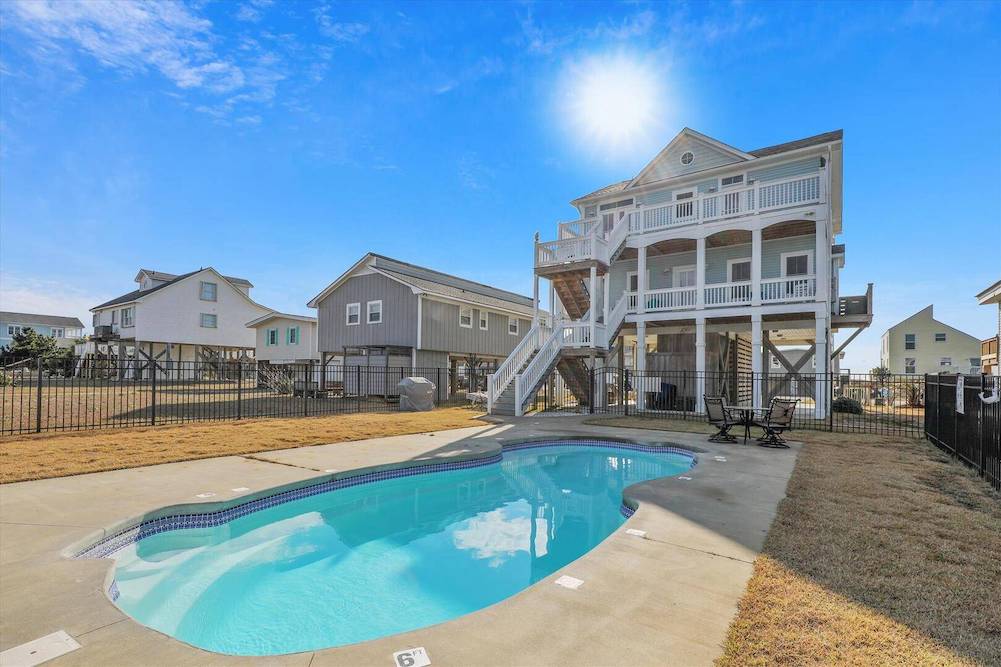 5 Bedrooms | 3.5 Bathrooms | Sleeps 12
Peace awaits you at Darlington House. This newly added 2nd row home offers spacious living areas, a well-equipped kitchen, beautiful interiors, and comfy bedding that delivers everything you need to create a memorable vacation. The multiple levels of oceanside and street side porches offer sweeping Atlantic views and are a perfect spot to enjoy your morning coffee or evening meals. Beach access is just a short walk to 25th or 27th Place West, and the convenient outdoor shower helps ensure you don't track a day's worth of sand back into your home. With a refreshing in-ground private pool, this Oak Island vacation rental guarantees you're never far from a fun and refreshing day in the sun!
Featured Amenities: 
Private pool
Fenced-in yard
Outdoor shower
Close beach proximity
Hakuna Matata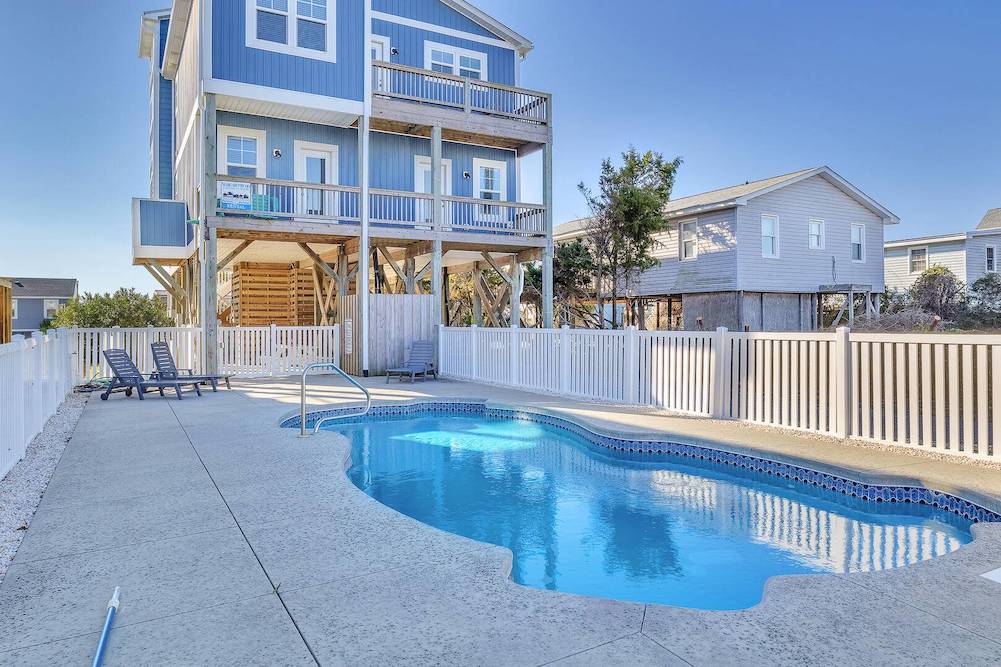 4 Bedrooms | 3.5 Bathrooms | Sleeps 10
This gem on Oak Island's West End offers visitors a luxurious in-ground pool, fenced-in yard, and insanely close beach access. With an inverted floor plan, guests have beautiful panoramic views of the ocean and surrounding landscape. The kitchen featues all-new stainless steel appliances and granite countertops guaranteed to make cooking a pleasure, even on vacation. At night, watch the sunset from the beautiful balconies, or while you float in the refreshing water of your private pool. When you book Hakuna Matata for your Oak Island vacation, you really will have no worries. 
Featured Amenities: 
New appliances
Private Pool
Close beach access
Third Row / Beach Stroll
SunBurns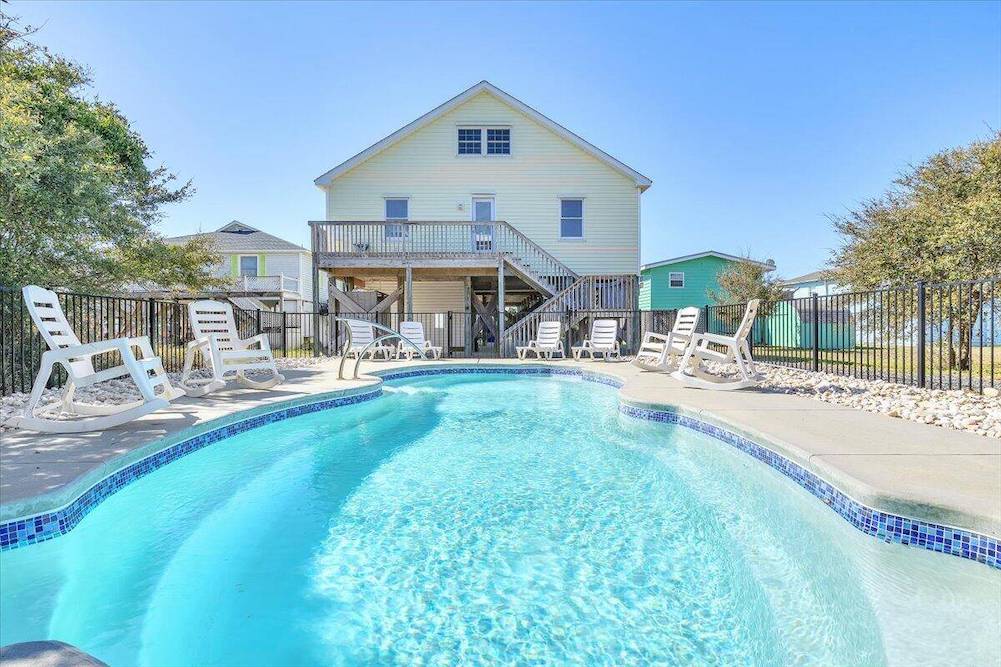 5 Bedrooms | 3 Bathrooms | Sleeps 18
SunBurns is a newly added, pet-friendly vacation rental located in the East Beach part of Oak Island. The large living and dining are perfect for family meals or game nights, and the spacious accommodations are perfect for friend-group getaways or multi-family vacations. Be sure to pack the floaties when you book SunBurns, the magnificent private pool is the highlight of this property and guarantees days, and nights, of fun, will be had by all!
Featured Amenities:
Outdoor Grill
Private Pool
Pet-friendly
Rainbow's End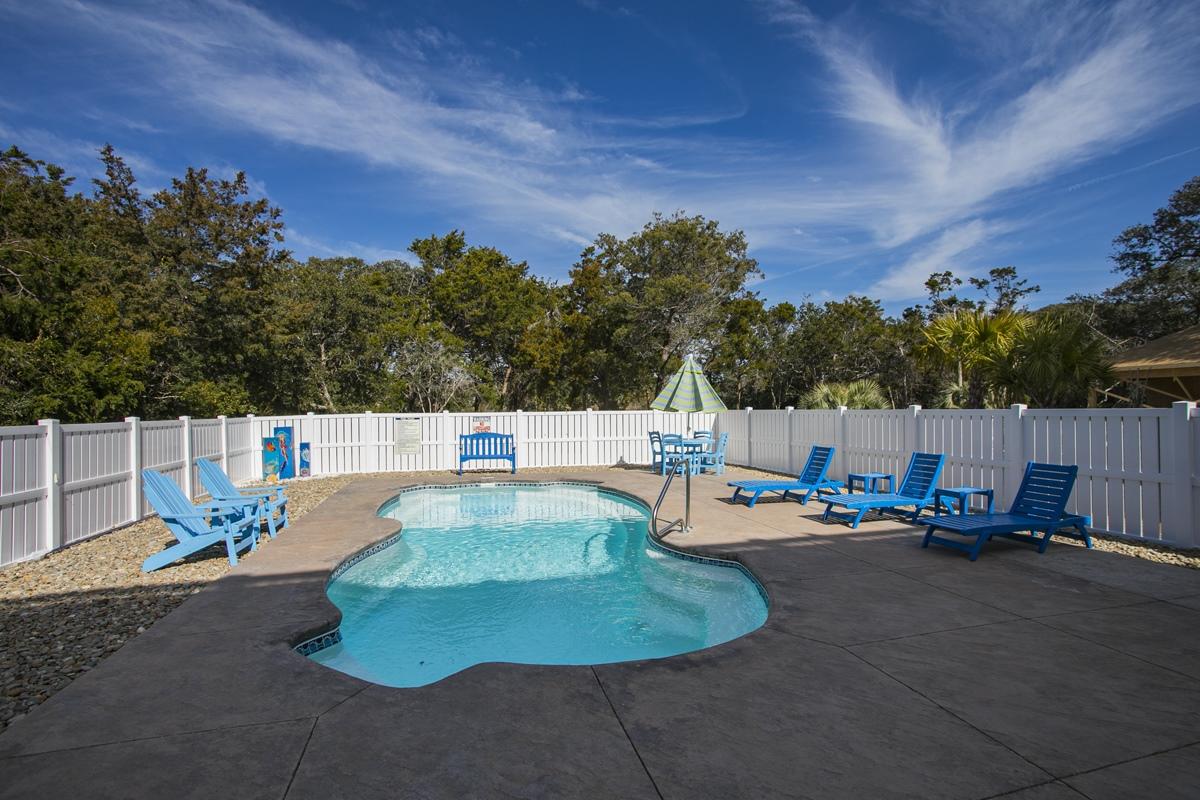 4 Bedrooms | 3 Bathrooms | Sleeps 9
Located in East Beach, this beautiful Oak Island home is just minutes from the beach and supremely located near shopping, restaurants and other conveniences. Rainbow's End features high-end, luxury finishings such as hardwood floors, and stainless steel appliances and offers guests multiple porches and deck seating perfect for watching sunsets or enjoying a cocktail after a long day at the shore. With elevator access available upon request, and a brand new pool, you'll feel as lucky as a leprechaun when you book direct and stay in Rainbow's End. 
Featured Amenities: 
Elevator
Brand new pool
Luxury appliances
Prime location
Barefoot Season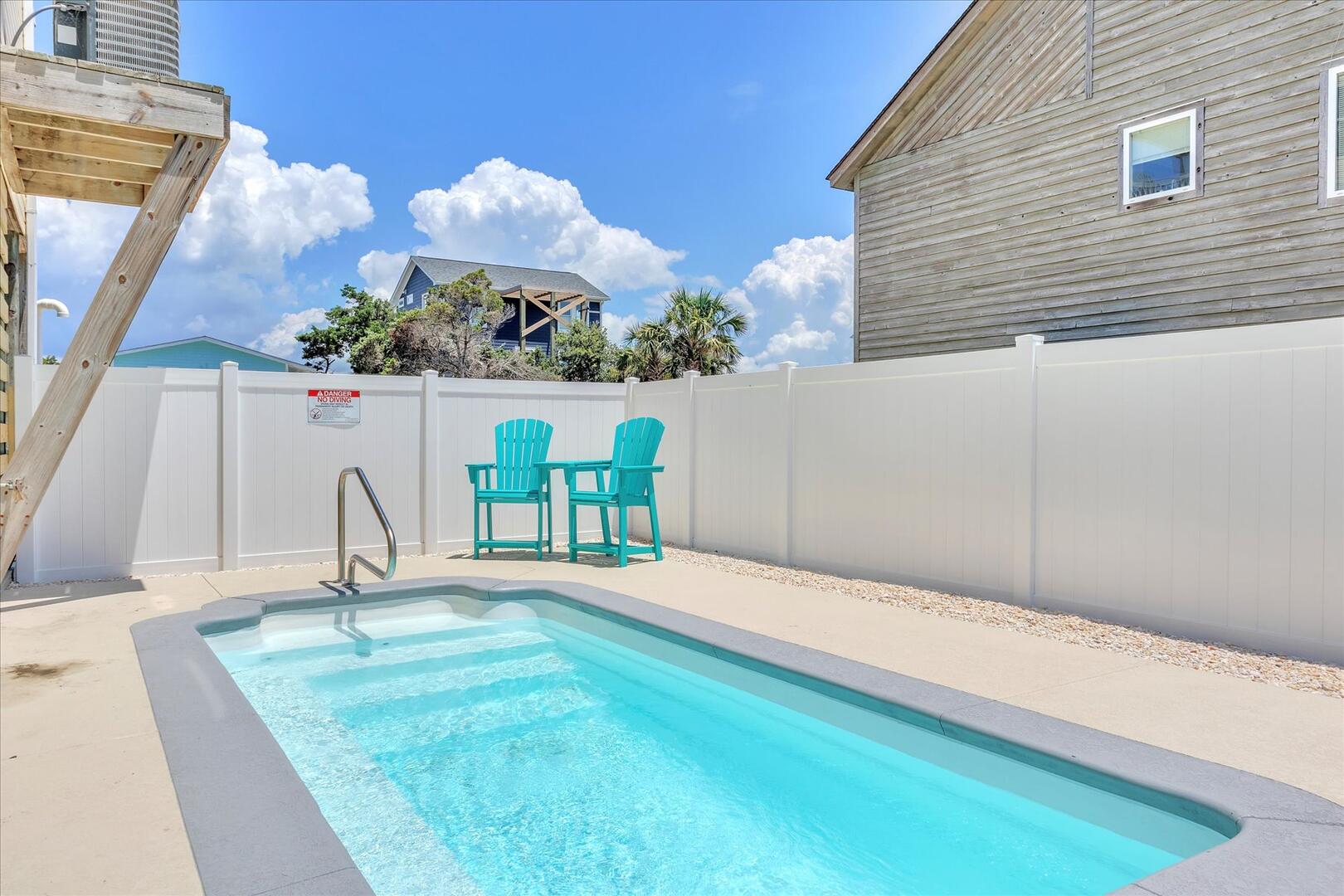 4 Bedrooms | 2.5 Bathrooms | Sleeps 10
This gorgeous 4-bedroom, 3-bath home boasts beautiful views of both the canal and the ocean. Sitting right on the second row, this property comes with a beautiful open floor plan, a large dining room table, and a breakfast nook with a view. Spend your days on the shore or using the swim spa pool! With four outdoor decks and plenty of natural light throughout the property, Barefoot Season makes it feel like summer all year long!
Featured Amenities:
Open Deck
Private Swim Spa Pool
Outdoor Shower
Flirty Flamingo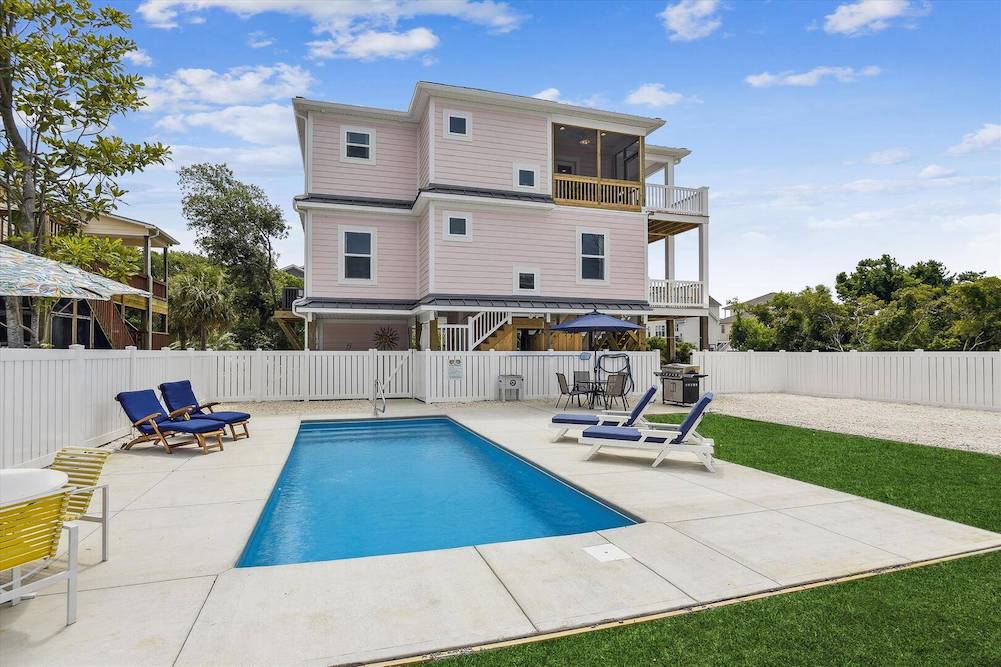 5 Bedrooms | 5.5 Bathrooms | Sleeps 10
Offering guests over 2,000 square feet of living space, with only a 2-minute walk to the beach, Flirty Flamingo is a vacationer's paradise in Oak Island's East Beach area. The natural light and coastal flair of the interior offer a calming island feel sure to melt away your stress and help you relax into your well-deserved vacation. The balconies offer expansive views, while the private pool and lovely manicured lawn and patio area provide an intimate setting for refreshing daily dips and social gatherings. 
Featured Amenities: 
Elevator
Private pool
Outdoor shower 
Well-equipped kitchen
Slow-N-Steady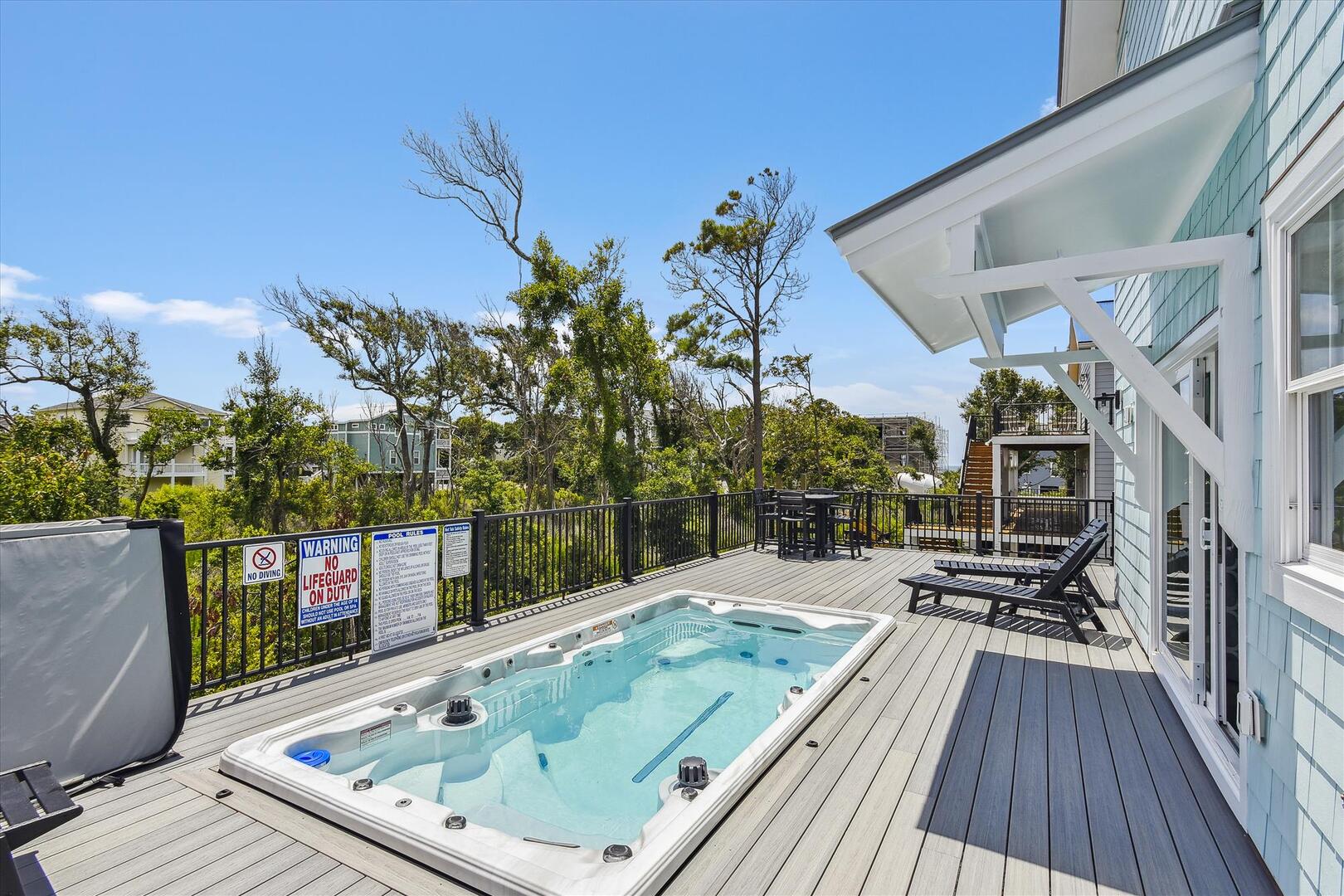 4 Bedrooms | 3 Full and 2 Half Bathrooms | Sleeps 9
Slow-N-Steady is a stunning brand-new construction 4-bedroom, 3-full and 2-half-bath property located in the East Beach area of Oak Island. Sporting a fabulous inverted floor plan, Slow-N-Steady is ideal for your next beach getaway. Kick back and relax on either of the 2 covered porches while listening to the waves crash against the shore. After a long day at the beach, clean off using the home's foot wash and enclosed hot and cold shower. Hop in the swim spa pool, perfect for relaxing and unwinding. Guests can also use the home's charcoal grill to cook up amazing food while lounging on the open deck! Enjoy ocean views from the home's two front porches and back deck!
Featured Amenities: 
Elevator
Private Swim Spa
Outdoor shower 
Inverted Floorplan
Sound or Canal Front
Crow's Nest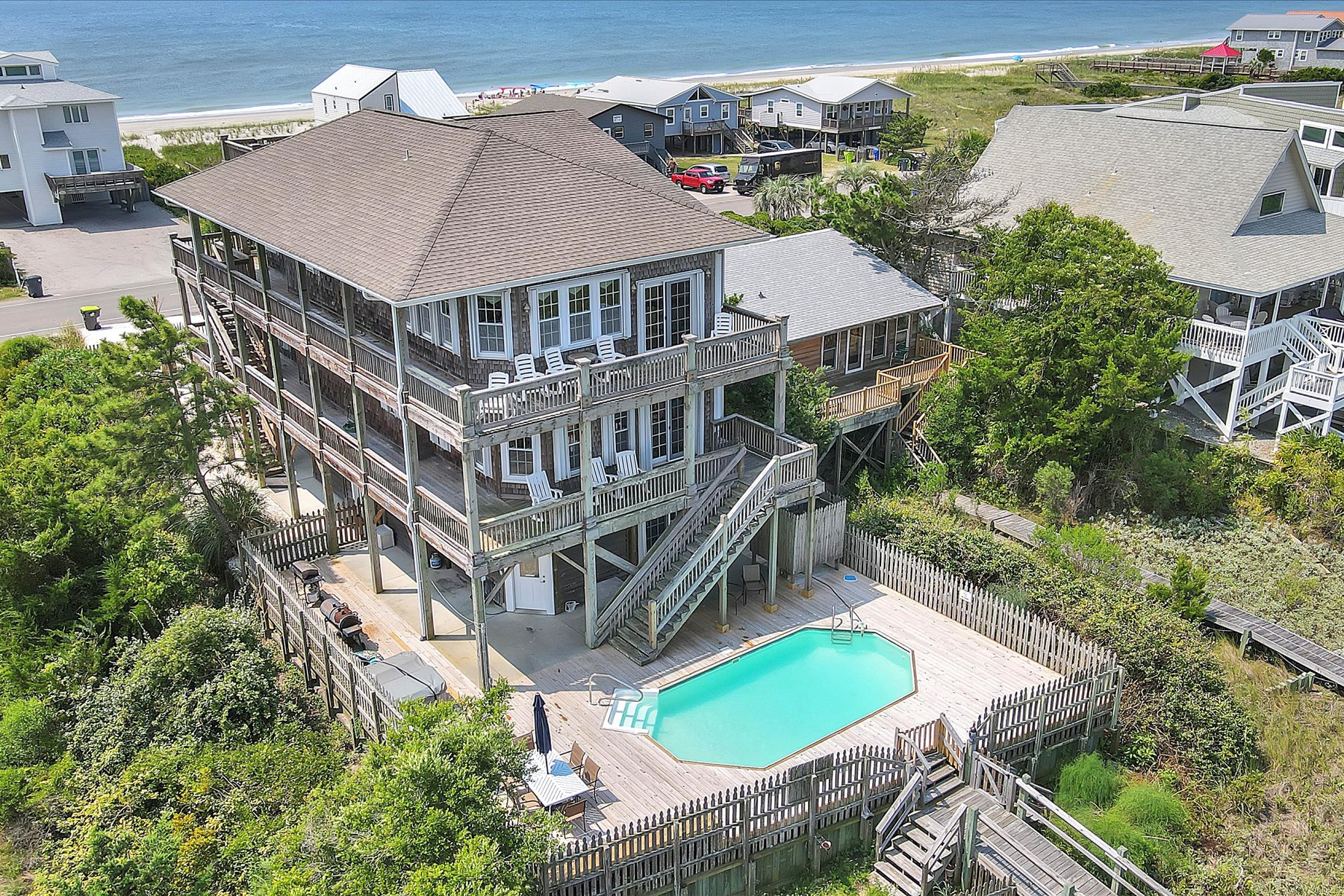 6 Bedrooms | 5.5 Bathrooms | Sleeps 13
Gift yourself the ultimate vacation experience when you stay at Crow's Nest, a remarkable six-bedroom, five-and-a-half-bath retreat on Oak Island's west end. With its unrivaled location, guests can relish unobstructed views stretching from Southport to Holden Beach, encompassing the waterway and inlets. Indulge in a variety of activities, from relaxing on the pristine beaches to enjoying the private pool and hot tub. Unwind on the waterway side decks with a cup of coffee, go fishing from the boat dock, or relax in the refreshing private pool. This delightful property offers modern amenities ensuring a memorable and enjoyable stay for everyone.
Featured Amenities: 
Elevator
Private pool
Updated kitchen appliances
65-inch television
Book Your Private Pool Oak Island Rental 
With 15 incredible properties to choose from, it's never been easier to find an Oak Island vacation rental with a private pool! Whether you're traveling with a large group, or looking for a quiet family getaway we have the perfect home for you. Start planning and book your Oak Island vacation rental today!